The Window **** (1949, Bobby Driscoll, Barbara Hale, Arthur Kennedy, Paul Stewart, Ruth Roman) – Classic Movie Review 3714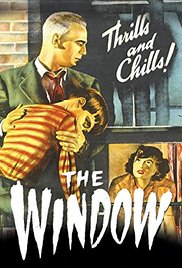 Director Ted Tetzlaff's engrossing and impeccably handled 1949 film noir thriller stars Bobby Driscoll, as a mischievous lad called Tommy who is prone to crying wolf. One hot summer night, he tells his parents Mrs and Mr Woodry (Barbara Hale and Arthur Kennedy) about a murder he has seen being committed on the floor above, and naturally no one believes him – except, that is, the murderers (Paul Stewart and Ruth Roman) themselves.
To avoid the heat of a sweltering Manhattan night, nine-year-old Tommy decides to sleep on the fire escape outside the Kellersons' apartment, as it is one storey higher than his, with more cool air up there. But through the window, he witnesses the Kellersons killing a man. Naturally, Tommy's parents and the police won't believe his story but the Kellersons want to silence him.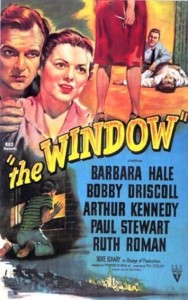 This excellent little movie version of a short story called The Boy Cried Murder by Cornell Woolrich (Rear Window, The Bride Wore Black) is a gem of a thriller, small in scale maybe, but tense, punchy and atmospheric. And it is tautly directed by former cameraman Tetzlaff, with a splendidly beady eye on the characters, the mood, location and the atmosphere, as well as the details and development of the story. It is even advertised as 'daringly filmed on New York's teeming East Side'.
Child star Driscoll gives a stupendous performance that helped him to win a special Oscar for the most outstanding juvenile actor of 1949 at the 1950 Academy Awards, for this and Disney's So Dear to My Heart (1948). But, after his Disney career, he later fell on bad times and drugs, dying impoverished and ending up in an unmarked pauper's grave in 1968, aged only 31. He played Johnny in Song of the South (1946), Jim Hawkins in Treasure Island (1950) and voiced Peter Pan (1953).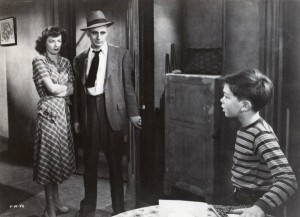 Also in the cast are Ken Terrell, Tex Swan, Carl Saxe, Anthony Ross, Lee Phelps, Jim Nolan, Eric Mack, Lee Kass, Charles Flynn, Budd Fine, Carl Faulkner, Lloyd Dawson, Richard Benedict and Tom Ahearne.
It was shot in 1947 but shelved by the RKO studio and released in 1949, so when Driscoll got his juvenile Oscar in 1950 he was 13.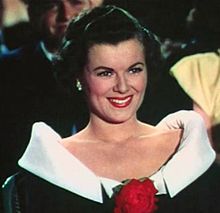 RIP Barbara Hale (April 18, 1922 – January 26, 2017), best known as legal secretary Della Street on 270 episodes of the Perry Mason TV series, reprising the role in 30 Perry Mason movies for television. Her actor son William Katt said: 'We've all been so lucky to have her for so long. She was gracious and kind and silly and always fun to be with. A wonderful actress and smart business woman.'
© Derek Winnert 2016 Classic Movie Review 3714
Check out more reviews on derekwinnert.com