The Whip Hand * (1951, Elliott Reid, Carla Balenda, Edgar Barrier, Raymond Burr, Otto Waldis, Michael Steele, Laurene Tuttle) – Classic Movie Review 6247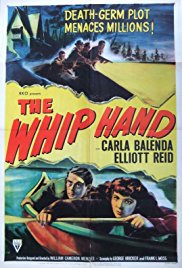 This tale about Communists holed up in a New England town and plotting to take over the US via germ warfare was originally a story about Adolf Hitler hiding in a town after the war, and being protected by the knowing villagers.
But its original intriguing crazed Nazi scientists story line was dropped when RKO studio boss Howard Hughes decided that he did not like the 'Hitler angle'. He thought Communists were more of a menace than crazed Nazi scientists and ordered extensive re-shooting, with the bad guys becoming Communist former Nazis, still with German names.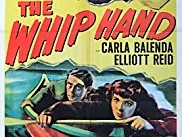 Not surprisingly, the silly 1951 film, set designed and directed by William Cameron Menzies, is an unconvincing, muddle bore with a tacky, rather violent finale. However, it is certainly historically interesting, throwing light on its persecution/ paranoia period and the ever peculiar Hughes.
It could do with better stars. Elliott Reid gives a shaky star turn as Matt Corbin, the magazine reporter on holiday fishing in Minnesota, who investigates after he finds the townsfolk behaving a little oddly and a lake in which all the fish have died. Carla Balenda (the former Sally Bliss) fails to excite either as Janet Keller, the sister of the local doctor caught up in the Communist crimes.
It is written by George Bricker and Frank L Moss, based on a story by Roy Hamilton. It is shot in black and white by Nicholas Musuraca, produced by Lewis J Rachmil and scored by Constantin Bakaleinikoff.
Also in the cast are Edgar Barrier, Raymond Burr, Otto Waldis, Michael Steele, Laurene Tuttle, Peter Brocco, Lewis Martin, Frank Darlen and Olive Carey.
Carla Balenda enjoyed a ten-year movie career from 1944 to 1954 before being lost to TV and retiring after 1966. She celebrates her 92nd birthday on 22 November 2017.
© Derek Winnert 2017 Classic Movie Review 6247
Check out more reviews on http://derekwinnert.com