The Trip to Bountiful **** (1985, Geraldine Page, John Heard, Carlin Glynn, Richard Bradford, Rebecca De Mornay) – Classic Movie Review 3247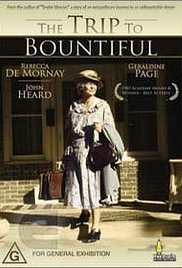 Geraldine Page is magnificent in director Peter Masterson's 1985 guaranteed four-hankie weepie, based on the Fifties Horton Foote play produced on American TV and on Broadway (with Lillian Gish).
Three cheers for the redoubtable Page who, after an astonishing seven unsuccessful Academy Award nominations, finally won the 1986 Best Actress Oscar as Mrs Carrie Watts, the quirky, dogged old widow lady determined to pay a last nostalgic visit to Bountiful, the fictitious place in Texas where she was born and passed her childhood. She's opposed in this quest by her grudging, hen-pecked son Ludie (John Heard) and his attractive but controlling wife Jessie (Carlin Glynn), with whom she's forced to stay so frustratingly in their home in Forties Houston, Texas. But one day, Mrs Watts makes a successful escape and last trip home to Bountiful.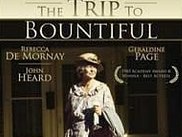 Foote was Oscar nominated for his Best Adapted Screenplay of his own 1953 play. He also co-produced with Sterling Van Wagenen.
Also in the cast are Richard Bradford (Sheriff), Rebecca De Mornay (Thelma), Kevin Cooney (Roy) and Norman Bennett. The film features a soundtrack by J.A.C. Redford featuring Will Thompson's 'Softly and Tenderly' sung by Grammy-award winner Cynthia Clawson.
It was remade as a TV movie in 2014 with Cicely Tyson.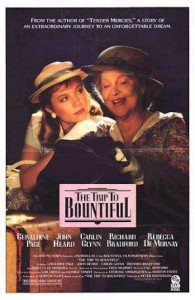 Tragically, Page didn't have long to enjoy her triumph: she died in 1987 while playing Madame Arcati in a Broadway revival of Blithe Spirit.
Horton Foote (1916-2009) won an Oscar for his moving script based on the Harper Lee 1960 Pulitzer-prize-winning novel of To Kill a Mockingbird. He won a second Oscar when he wrote the screenplay for the 1983 Tender Mercies film with Robert Duvall, who appeared in Mockingbird .
© Derek Winnert 2015 Classic Movie Review 3247
Check out more reviews on http://derekwinnert.com