The Three Faces of Eve **** (1957, Joanne Woodward, David Wayne, Lee J Cobb) – Classic Movie Review 4279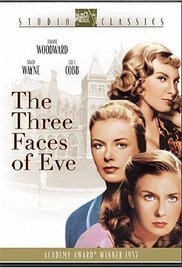 Joanne Woodward won the 1958 Best Actress Oscar (and Golden Globe) in her third film as a real-life housewife from Georgia suffering from a rare multiple personality disorder in Nunnally Johnson's 1957 drama.
David Wayne plays her husband who takes her to a psychiatrist (Lee J Cobb), who tries to sweep aside the two less attractive personalities of the three through hypnosis in order to make her mind healthy again.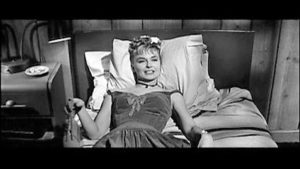 Woodward is superb and makes easily accessible a precision-tooled case study of exactly why a dowdy woman has blackouts and emerges as either a sexy lady or clever woman.
Remarkably Johnson turns his three faces, or at least three different hats, to produce, write and direct. Johnson's screenplay is based on the book by Corbett H Thigpen and Hervey M Cleckley.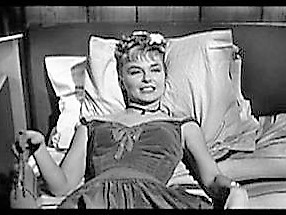 Also in the cast are Edwin Jerome, Alena Murray, Nancy Kulp, Vince Edwards, Douglas Spencer, Terry Ann Ross, Ken Scott and Mimi Gibson.
Woodward's first two films are Count Three and Pray (1955) and A Kiss Before Dying (1956). The Three Faces of Eve is the first of her four Oscar nominations, followed by Rachel, Rachel (1968), Summer Wishes, Winter Dreams (1973) and Mr & Mrs Bridge (1990).
© Derek Winnert 2016 Classic Movie Review 4279
Check out more reviews on http://derekwinnert