The Star Packer ** (1934, John Wayne, Verna Hillie, George 'Gabby' Hayes, Yakima Canutt) – Classic Movie Review 6047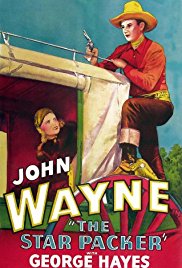 'He fought for justice–and battled for love! He fought for JUSTICE!– Battled for LOVE!' Writer-director Robert N Bradbury's brisk-paced, cheaply made early John Wayne B-Western, made in 1934, is the star's first movie for poverty row studios Monogram.
Bradbury's humble, humdrum story pits the Duke as US Sheriff John Travers against the villainous Shadow (George 'Gabby' Hayes) and his bad black-hatted gang.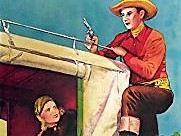 The bad guys have a group of ranchers in their power, but big John rides into town to set things back on the straight and narrow.
Wayne fans will enjoy the familiar formula and will recognise regulars Hayes and famous stuntman Yakima Canutt, as Wayne's Indian buddy Yak.
Also in the cast are Verna Hillie, Earl Dwire, Eddie Parker, George Cleveland, Billy Franey, Thomas G Lingham and Glenn Strange.
It runs 53 minutes, is shot in black and white by Archie J Stout and produced by Paul Malvern for Lone Star productions.
The failure of the original owner to renew the film's copyright resulted in it falling into the public domain.
© Derek Winnert 2017 Classic Movie Review 6047
Check out more reviews on http://derekwinnert.com