The Single Standard *** (1929, Greta Garbo, Nils Asther, John Mack Brown, Dorothy Sebastian, Lane Chandler) – Classic Movie Review 5323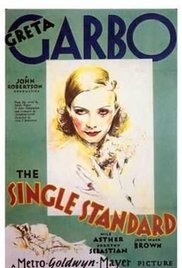 Director John S Robertson's soapy 1929 silent movie drama, based on Adela Rogers St Johns's 1928 romantic novel, is remembered, if at all, really only because it stars Greta Garbo. But that is enough!
Garbo stars as wealthy Arden Stuart, a free-thinking socialite seducing chauffeur Ding Stuart (Lane Chandler), romancing artist Packy Cannon (Nils Asther), and driving her husband Tommy Hewlett (John Mack Brown) to despair.
MGM's silent film, made a couple of years after the arrival of the talkies, offers a sharp taste of the liberated woman in the flapper age, while Oliver Marsh's cinematography, the MGM studio sets, the costumes and the star (in trousers!) look just lovely.
Also in the cast are Dorothy Sebastian, Mahlon Hamilton, Kathlyn Williams, Zeffie Tilbury and Robert Castle, plus there is an early sighting of Joel McCrea as one of Garbo's admirers.
It runs 73 minutes, is written by Josephine Lovett and Marian Ainslee, is shot in black and white by Oliver Marsh and is set designed by Cedric Gibbons.
Garbo says: 'I am walking alone because I want to be alone' and sails to the South Seas with her lover on a boat called the All Alone.
Garbo made one more silent, The Kiss, before she finally launched into talkies with Anna Christie.
© Derek Winnert 2017 Classic Movie Review 5323
Check out more reviews on http://derekwinnert.com