The Roman Spring of Mrs Stone **** (1961, Vivien Leigh, Warren Beatty, Lotte Lenya, Jeremy Spenser, Coral Browne, Ernest Thesiger, Cleo Laine, Jill St John) – Classic Movie Review 5117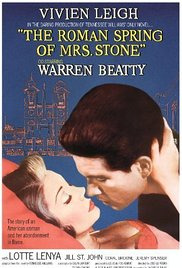 Director Jose Quintero's 1961 romantic drama is a highly intriguing film version of Tennessee Williams's only novel, with Vivien Leigh enjoying herself as Mrs Stone, an ageing American actress staying in a magnificent apartment in Rome, who succumbs to the lure of the flesh in the presentable person of young gigolo Paolo di Leo (Warren Beatty). Mrs Stone's much older husband has suffers a fatal heart attack on the plane to Rome. She begins a passionate affair with Paolo…
Leigh and Beatty fit tight into their parts like high-class suede gloves, and, excellent though they are, they are upstaged by Best Supporting Actress Oscar-nominated Lotte Lenya, who expertly plays Leigh's bitchy buddy, the Contessa, who introduces Paolo to her.
The Roman Spring of Mrs Stone lacks the finesse and style of A Streetcar Named Desire (1951), Leigh's previous close encounter with a Williams opus, but it still exercises an often mesmerising and luridly decadent fascination. Beatty looks good enough to eat and Leigh is quite touching.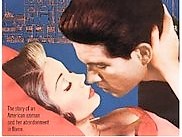 Warren Mitchell (aka Alf Garnett) is oddly cast as Giorgio; Cleo Laine is the singer. Also in the special cast are Jeremy Spenser, Coral Browne, Ernest Thesiger, Bessie Love, Jean Marsh, Jill St John, Stella Bonheur, Josephine Brown, Elspeth March, Peter Dyneley, Carl Jaffe, Harold Kasket, Viola Keats, Henry McCarty, John Phillips, Paul Stassino, Mavis Villiers, Thelma D'Aguilar and Edward de Souza.
Gavin Lambert and Jan Read provides the adapted screenplay, the film is shot by Harry Waxman, produced by Louis de Rochemont, scored by Richard Addinsell, and designed by Roger Furse and Herbert Smith.
There is some shooting in Rome, but most of the film was made in England at the Associated British Elstree Studios, Borehamwood, Hertfordshire.
It was Thesiger's final film before his death on 14 January 1961, aged 81.
It was remade for TV in 2002, with Helen Mirren, Olivier Martinez, Anne Bancroft, Maggie Smith, Mel Brooks and Brian Dennehy.
© Derek Winnert 2017 Classic Movie Review 5117
Check out more reviews on http://derekwinnert.com