The Relic ****½ (1997, Penelope Ann Miller, Tom Sizemore, Linda Hunt, James Whitmore) – Classic Movie Review 12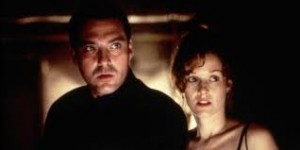 Something wicked this way comes! A now-missing anthropologist investigating the culture of lost tribes has mysteriously sent crates of leaves from the Amazon jungle to Chicago's Natural History Museum, leading to gruesome deaths on the cargo ship bringing the crates to the US and a murder in the museum.
Perfectly cast Penelope Ann Miller and Tom Sizemore get an excellent bickering odd-couple double act going as police detective Lieutenant Vincent D'Agosta and evolutionary biologist Dr Margo Green, who are compelled to join forces to investigate just what's going on. Unfortunately what they find is a huge dark presence deep down in the bowels of the museum, which is going to be a bit of a problem when a posh benefit gala attended by the Mayor (Robert Lesser) and his wife (Diane Robin) is going be staged there.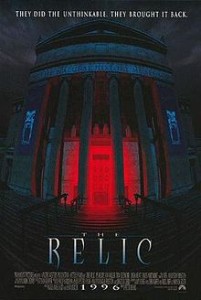 Based on the best-selling novel by Douglas Preston and Lincoln Child, this hugely entertaining scare ride is an ultra-creepy, absolutely first-class monster movie, done with the greatest of conviction and relish, with a splendidly achieved eerie atmosphere, an excellent build-up of tension, many terrifying moments and a stupefying climax.
Plus, with co-stars Linda Hunt and James Whitmore's fine, quirky characterisations of other professors, there are four charismatic star performances and it helps a lot that the creature is beautifully realised in an extremely slick production, with handsome sets and impressive effects.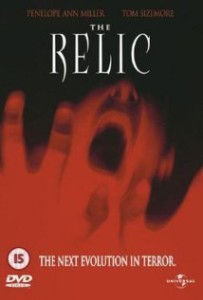 All this old-style craftsmanship amounts to a huge credit to director-cinematographer-editor Peter Hyams's ultimate professionalism. What a splendid record he has delivering quality fantasy movies: Capricorn One, Outland, 2010, Timecop, End of Days. I get the feeling he loves actors: Whitmore's ex-wife Audra Lindley is a hoot as Dr Zwiezic.
Even without big star names, it cost a great deal ($60million) and didn't do particularly well at the box office (it took $34million in the US). It would probably have attracted a bigger crowd with bigger stars. It didn't always have great reviews either, though Roger Ebert and Gene Siskel liked it.
But, long story short, this is one of those great genre movies that deserves to be much better known and appreciated.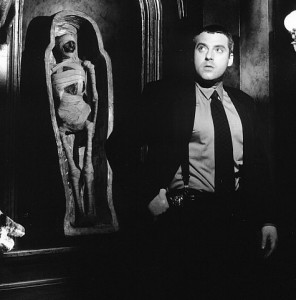 The original score is composed by John Debney. Makeup artist Stan Winston and his team made three creatures with two people moving the heads and people on the side working the electronics to move the arms, claws and mouth. A set was built of a tunnel flooded with water in Los Angeles, in addition to filming on location in Chicago.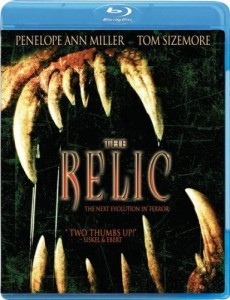 The film omits the major character of FBI agent Pendergast from the source novel by Douglas Preston, an ex-journalist and former public relations director for the American Museum of Natural History in New York City, and Lincoln Child.
The Natural History museum's administrators turned the film's producers down to film there because the novel shows them in an unflattering way and they thought a monster movie would scare kids away from the museum. But the Field Museum of Natural History in Chicago liked the story and allowed them to shoot there.
Rated R for monster violence and gore, and for language.
© Derek Winnert 2013 Classic Movie Review 12
Check out more reviews on http://derekwinnert.com