The Razor's Edge **** (1946, Tyrone Power, Gene Tierney, Clifton Webb, Herbert Marshall, John Payne, Anne Baxter, Lucile Watson, Frank Latimore, Elsa Lanchester) – Classic Movie Review 5135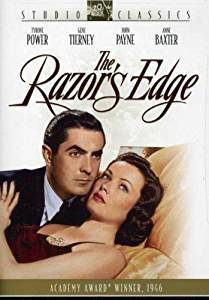 The 20th Century-Fox film studio and producer Darryl F Zanuck splashed out on a plush production for director Edmund Goulding's diverting, if over-long (146 minutes) and meandering 1946 film version of W Somerset Maugham's engrossing but rather soapy and pretentious novel. The story is, apparently, about 'Hunger no love woman or wealth could satisfy!'
Tyrone Power stars as an affluent young man called Larry Darrell, who enjoys a life of idleness but then is inspired to look for truth and goodness in posh Chicago in the era between the First and Second World Wars. He sets off to find adventure and loses his socialite fiancée Isabel Bradley (Gene Tierney), who marries Gray Maturin (John Payne), but when Larry returns 10 years later, he finds she will stop at nothing to get him back.
Plush though it is, cinematographer Arthur Miller shoots it in Black-and-White, which is a slight pity, though it does turn it into a Forties film noir-style romantic drama, which is always welcome.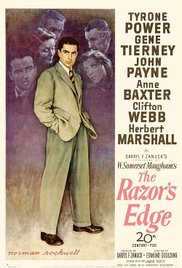 Power gives a passable, if not inspired performance in a difficult role and Anne Baxter is striking, winning the Best Supporting Actress Oscar as an alcoholic called Sophie MacDonald. But the film's best performances are those of Clifton Webb as Elliott Templeton, Elsa Lanchester as Miss Keith and Herbert Marshall (as the author, Maugham). It also stars Lucile Watson as Louisa Bradley and Frank Latimore as Bob MacDonald.
It was also Oscar nominated for Best Picture, Best Supporting Actor (Webb) and Best Art Direction-Interior Decoration, Black-and-White. Baxter also won the Golden Globe as Best Supporting Actress and Webb won Best Supporting Actor.
Also in the cast are Fritz Kortner, Cecil Humphreys, Harry Piker, Cobrnia Wright, Frederic Brunn, Eugene Borden, André Charlot, George Davis, Bess Flowers, Saul Gross, Henri Letondal, Louis Mercier, Forbes Murray, Barry Norton, Robert Norwood, Albert Pollet, Lillian Stanford and John Wengraf.
Lamar Trotti adapts Maugham's novel, respecting it, but in an over-reverential way. Interfering producer Zanuck wrote 37 extra scenes. Maugham was paid to write a screenplay, still on file at the studio.
The film needed 89 different sets and had Fox's longest shoot till then.
There is no Fox theme tune at the start. At symbol appears on the credits near Maugham's name, meant to ward off the evil eye, appearing on the covers of his novels.
It was remade in 1984 with Bill Murray, which runs a much tidier 128 minutes.
© Derek Winnert 2017 Classic Movie Review 5135
Check out more reviews on http://derekwinnert.com