The Odd Couple ***** (1968, Jack Lemmon, Walter Matthau, John Fiedler, Monica Evans, Carole Shelley, Herb Edelman, Iris Adrian) – Classic Movie Review 708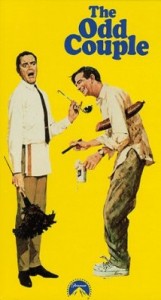 Walter Matthau and Jack Lemmon light up the screen with laughter as the quintessential Odd Couple in 1968. Matthau plays the slobbish, grouchy sportswriter Oscar Madison and Lemmon is the houseproud, hypochondriac photographer Felix Ungar, who make the mistake of setting up home together when divorce looms and soon find that sometimes opposites aren't attractive.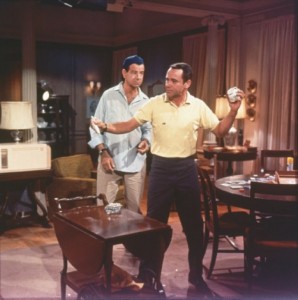 Matthau plays poker with the guys, while Lemmon fusses, and they date a couple of dizzy English sisters (Monica Evans, Carole Shelley), their upstairs apartment neighbours.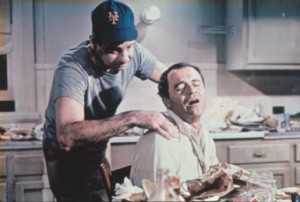 Writing his own screenplay and adapting his stage play, Neil Simon makes the most of his hilarious dialogue, which is perfectly performed by the stars, while director Gene Saks constructs a convincingly unstagey movie that improves on the theatre original.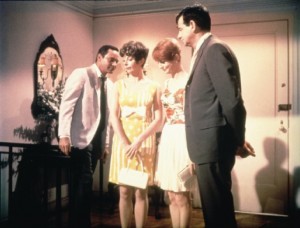 As ever, the stars prove the comedy dream team. John Fielder and Herb Edelman (Stan in TV's The Golden Girls) give superior support as the poker players, and Thirties character actress Iris Adrian has a nice cameo as a waitress.
Needless to say, despite all the male bonding and bickering, there's not a whisper of homosexuality in this story, neither latent nor blatant. Just as well, really.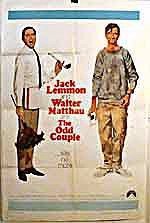 Matthau performed the play on Broadway with Art Carney. A hit TV series followed (1970-75), with Tony Randall and Jack Klugman, who in old age re-created their roles in a London stage revival in 1996.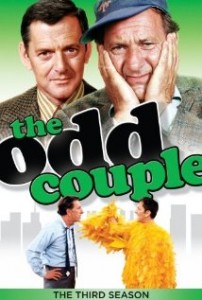 A sequel with Matthau and Lemmon, The Odd Couple II, finally followed in 1998. Evans and Shelley also played their parts on Broadway and again in the TV show.
© Derek Winnert 2014 Classic Film Review 708
Check out more reviews on derekwinnert.com