The Goodbye Girl **** (1977, Richard Dreyfuss, Marsha Mason, Quinn Cummings) – Classic Movie Review 4138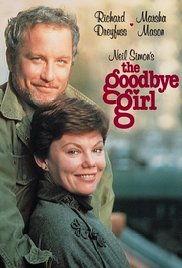 Director Herbert Ross's cute, funny and likeable 1977 film version of Neil Simon's witty Oscar-nominated original screenplay provides a great showcase for the talents of Richard Dreyfuss, who won the 1978 Best Actor Oscar for his role as Elliot Garfield, a wannabe struggling off-Broadway actor reluctantly forced to live with an unemployed divorced dancer, Paula McFadden (Marsha Mason).
It was also nominated for Best Picture (Ray Stark, Producer), Best Actress (Marsha Mason), Best Supporting Actress (Quinn Cummings) and Best Motion Picture Screenplay (Neil Simon).
Just dumped by her live-in boyfriend, Paula is down on her luck and homeless with a precocious 10-year-old daughter, Lucy (Quinn Cummings). In an audience manipulating, theatrical device that works less convincingly in the cinema, actor Elliot has sublet their Manhattan apartment from her married boyfriend, who has quit without warning for a job out of town, deserting her to go act in a movie in Italy. Forced into a corner, the two decide unwillingly to share the apartment.
It is a variant on The Odd Couple, of course, and Simon cleverly manages to get more mileage out of the same themes he explored so profitably there.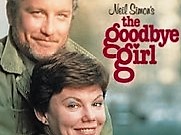 It ends up as a sweet-natured, nice, good old-fashioned romantic comedy in which the stars are perfectly paired. Dreyfuss, twinkling with brash energy like some latter-day James Cagney (see him in One, Two, Three), gets most of the laughs and leaves it to Mason (then Mrs Simon) to be touching.
A big $102 million money-spinner, it was especially popular in America, despite the qualms of studio Warner Bros.
Also in the cast are Paul Benedict, Barbara Rhoades, Theresa Merritt, Michael Shawn, Patricia Pearcy, Gene Castle, Daniel Levens and Nicol Williamson.
The film began as a screenplay called Bogart Slept Here (Dustin Hoffman's real-life story after he became a star), that was to star Robert De Niro and Mason. Dreyfuss was brought in to replace De Niro and Simon then rewrote the screenplay in six weeks.
Dreyfuss recalls: 'The Goodbye Girl was a wonderful script. It was funny and loving. And the actors and actresses – especially Marsha and Quinn – were perfect. Like God had said these are the actors to work with. I once said that I'd like to play Elliot until I retired because he was great. I wanted to be him.'
The 30-year-old Dreyfuss was the youngest to win the Best Actor Oscar, till Adrien Brody (29) in The Pianist.
The Goodbye Girl was developed into a 1993 Broadway musical with Martin Short and Bernadette Peters.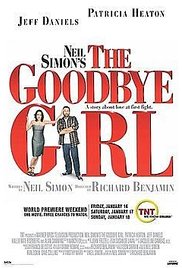 It was remade in 2004 as a TV movie with Jeff Daniels, Patricia Heaton and Hallie Kate Eisenberg, with Marsha Mason, the original Paula, playing the mother of Patricia Heaton, the new Paula.
Dreyfuss said he keeps his Oscar in the fridge because he wants everyone to know he has one without having to say anything. 'I don't like to brag, but I like everyone to know about it. Sooner or later, I know they are all going to go to the refrigerator.'
© Derek Winnert 2016 Classic Movie Review 4138
Check out more reviews on http://derekwinnert