The Longest Day **** (1962, John Wayne, Robert Mitchum, Henry Fonda, Robert Ryan, Richard Todd, Richard Burton, Sean Connery, Rod Steiger, Robert Wagner) – Classic Movie Review 5928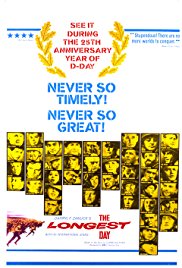 This three-hour 1962 blockbuster epic presents the story of the Allied 1944 D-Day Normandy landings according to Cornelius Ryan's bestseller, producer Darryl F Zanuck and 20th Century Fox. All of them must share the authorship and credit, maybe even more than the directors – Ken Annakin, Andrew Marton, Bernhard Wicki and Gerd Oswald.
The ambitious, huge-scale, documentary-style re-creation of the battle cannot fail to impress, and the movie is based solidly on a complex, intelligent screenplay which pulls in umpteen story strands and roles for half of the famous actors of the day. The screenplay is by Cornelius Ryan, with additional episodes written by Romain Gary, James Jones, David Pursall and Jack Seddon.
The difficulties of working on so large a canvas are obvious, but they are largely overcome by an incredible feat of organization and old-style professionalism, and producer Zanuck achieves his ambition in fashioning a good old-fashioned, entertaining war spectacular.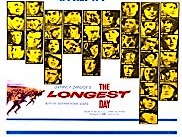 The two cinematographers Jean Bourgoin and Walter Wottitz shared the 1963 Oscar for Best Cinematography, Black-and-White, and there was another one for Best Special Effects for R A MacDonald (visual) and Jacques Maumont (audible), though some of these visual effects, understandably, look dated now. Henri Persin and Guy Tebbary were also cameramen on the film. Bourgoin, Wottitz and Persin shared the Golden Globe for Best Cinematography – Black and White.
For those not too keen on Black and White movies, British TV may show the useful, sparingly colorised version.
It is top heavy with stars, the biggest stars of the day  – John Wayne, Robert Mitchum, Henry Fonda, Robert Ryan, Richard Todd, Richard Burton, Sean Connery, Rod Steiger and Robert Wagner head the cast.
Also in the star cast are Richard Beymer, Mel Ferrer, Jeffrey Hunter, Paul Anka, Sal Mineo, Roddy McDowall, Stuart Whitman, Eddie Albert, Edmond O'Brien, Fabian Forte, Red Buttons, Tom Tryon, Alexander Knox, Tommy Sands, Ray Danton, Mark Damon, Dewey Martin, John Crawford, John Meillon, Steve Forrest, Ron Randell, Jack Hedley, Michael Medwin, Norman Rossington, Kenneth More, Peter Lawford, Leo Genn, John Gregson, Patrick Barr, Donald Houston, Leslie Phillips, Richard Wattis, Bourvil, Jean-Louis Barrault, Arletty, Christian Marquand, George Segal, Curt Jurgens, Gert Frobe, Peter Van Eyck and Eugene Deckers.
Wow, it really is an all-star cast! And then there are dozens more famous names in the ensemble too.
[Though several sources credit Christopher Lee, he denied working on the film.]
Ken Annakin directed the British exterior episodes, Andrew Marton directed the American exterior episodes, Bernhard Wicki directed the German episodes and Gerd Oswald parachuting directed the scenes in Sainte-Mère-Église.
It is interesting to compare it with 1998's Saving Private Ryan.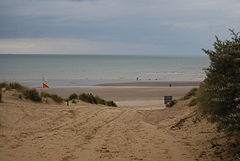 Camber Sands, near Rye, East Sussex, England, with its wide bay and large dune system, is used as the Normandy beaches during D-Day.
It was also used in the 1958 film Dunkirk starring John Mills to re-create Operation Dynamo.
© Derek Winnert 2017 Classic Movie Review 5928
Check out more reviews on http://derekwinnert.com