The Long, Long Trailer **** (1953, Lucille Ball, Desi Arnaz, Marjorie Main, Keenan Wynn, Moroni Olsen) – Classic Movie Review 5929
Director Vincente Minnelli's 1953 road movie comedy is a sprightly, nimble vehicle for the I Love Lucy real-life married pair Lucille Ball and Desi Arnaz, who star as a couple who make the mistake of purchasing an all-too-expensive trailer-home to go on their honeymoon.
Based on a bestselling book by Clinton Twiss by screen-writers Frances Goodrich and Albert Hackett, it is mostly very frothy and very amusing.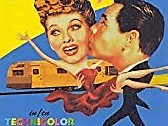 Lucy and Desi delight throughout as Tacy and Nicky, and, when the featherweight script occasionally stalls, the reliable, talented funny co-stars Marjorie Main, Keenan Wynn and Moroni Olsen help it out enormously.
And it is all kept purring along nicely by unexpected director Minnelli, who turns it into a deserved cinema hit for TV's I Love Lucy stars. Robert Surtees shoots in enticing Anscocolor to attract the TV audiences away from their black and white sets.
Also in the cast are Gladys Hurlbut, Bert Freed, Madge Blake, Walter Baldwin, Oliver Blake and Perry Sheehan.
It is made by MGM who ironically dumped Ball as a contract player back in 1946.
© Derek Winnert 2017 Classic Movie Review 5929
Check out more reviews on http://derekwinnert.com