The Long, Hot Summer **** (1958, Paul Newman, Joanne Woodward, Anthony Franciosa, Orson Welles, Lee Remick, Angela Lansbury, Richard Anderson) – Classic Movie Review 6019
Based on the stories in William Faulkner's novel, Martin Ritt's sexy and steamy 1958 Deep South melodrama stars Paul Newman and Joanne Woodward, with Orson Welles enjoying himself as the typical 'big daddy' character Will Varner, who rejects his own weak son Jody (Tony Franciosa) in favour of new bad boy in town Ben Quick (Newman), a barn burner and con man.
Meanwhile Welles's daughter Clara (Woodward) finds herself helplessly attracted to Newman as temperatures rise in the Mississippi small town summer heat.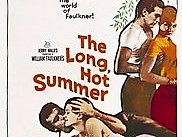 High-class performances all round from an awesome cast help to turn William Faulkner's stories into a moody and often magnificent film, dripping with passion and heavy with the scent of lust. Newman won the Best Actor award at the Cannes Film Festival in 1958.
Also notable are Lee Remick as Franciosa's sexy wife Eula Varner and Angela Lansbury as Welles's long-suffering mistress Minnie Littlejohn.
It is a beautifully crafted movie with a finely honed screenplay by the team of Irving Ravetch and Harriet Frank, a distinguished score by Alex North and striking colour cinematography by Joseph La Shelle.
Also in the cast are Richard Anderson, Sarah Mitchell, Mabel Albertson, J Pat O'Malley and William [Bill] Walker.
It was advertised as 'Adapted from the sensational novel by William Faulkner.' I don't know about that but the movie is pretty sensational.
In real life, Newman and Woodward married when the film was completed. They married on 29 January 1958 and stayed married 50 years till his death on 26 September 2008, having three children.
It was remade as a two-part TV movie in 1985 with Ava Gardner, Judith Ivey, Don Johnson, Jason Robards Jr, William Russ, Cybill Shepherd and Wings Hauser.
aged 91.
© Derek Winnert 2017 Classic Movie Review 6019
Check out more reviews on http://derekwinnert.com