The Killing of a Sacred Deer **** (2017, Colin Farrell, Nicole Kidman, Barry Keoghan, Alicia Silverstone) – Movie Review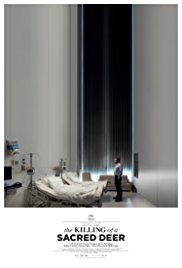 Co-writer/director Yorgos Lanthimos's dark and sinister drama is his keenly anticipated follow-up to The Lobster (2015). It is very much in the same spirit, a largely impenetrable, impeccably crafted old-style art movie, catnip for film festivals, recalling some Seventies art house classics.
It again stars Colin Farrell, continuing his run of ambitious, successful performances, playing the hero, Steven Murphy, suave surgeon, whose existence is dogged by the persistent attentions of a strange teenage boy, Martin (Barry Keoghan). The boy is walking catatonic and seems, at first, to need Murphy's help. Certainly he wants something from him. The mystery is, what the heck is it?
But if the boy is walking catatonic, everybody in the movie is. All the cast are talking in dislocated, unresponsive monotones. They are all in some kind of stupor. What is it? Where are we? The Stepford Wives or Rosemary's Baby, maybe.
Nicole Kidman plays Farrell's anaesthetist wife Anna, straight out of The Stepford Wives, the original creepy one, not her own 2004 spoof film of The Stepford Wives. Anna seems pretty crazy, long before the events of the movie hit her character. Kidman is an expert at this kind of role, having played it very often, maybe a little too often. It is a variant of her turn in The Beguiled (which she also starred in with Farrell).
Anyway, though it is a subsidiary role, she is excellent, and Lanthimos makes up for her lack of dialogue by giving her plenty of screen time to chill the air, with her scary looks. Kidman and Farrell are credible husband and wife, married for 16 years in a frozen atmosphere, with two semi-comatose kids, Kim (Raffey Cassidy) and Bob (Sunny Suljic).
There are only two other characters, Farrell's anaesthetist colleague Matthew (Bill Camp) and Martin's widowed mother (Alicia Silverstone). All seven performances are excellent.
Obviously, it is the kind of movie where everybody's lives are going to fall apart in some way, there might a sacrifice to be made, and, given the title, there might be a killing. But, whether there is or not, that can remain part of the mystery. Occasionally, Lanthimos pushes quite hard, to jolt you awake, and the film definitely goes in the horror direction in the way that The Beguiled does, without actually being a horror movie.
Its inscrutability and impenetrability are high on its list of main attractions. So is the idea that it is telling a unique story in a striking, special way. As with The Lobster, it invites you in to make of it what you will, or perhaps what you can, while being surreal, disturbing, funny, poetic and beautiful.
Lanthimos won the Best Screenplay award at the Cannes Film Festival 2017 (tied with Lynne Ramsay for You Were Never Really Here). It really is a very good screenplay, with a bold concept, fresh, witty and clever. The are little laughs and shocks along the way, and it looks very smart in the striking cinematography by Thimios Bakatakis.
So, there is a smart script and smart photography, but also there is also smart acting. Again it is mainly Farrell's show, and he holds it together compellingly. But this time he doesn't get it all his own way. Keoghan is tremendously creepy, mesmerisingly so, and Kidman is magnetically haunted. It's a smart film.
© Derek Winnert 2017  Movie Review 
Check out more reviews on http://derekwinnert.com