The Joker Is Wild ***½ (1957, Frank Sinatra, Mitzi Gaynor, Jeanne Crain, Eddie Albert, Beverly Garland, Jackie Coogan, Sophie Tucker, Ted De Corsia, Barry Kelley) – Classic Movie Review 4721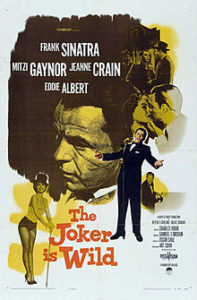 Director Charles Vidor's hit 1957 musical stars Frank Sinatra as Twenties Chicago night-club/ speakeasy singer Joe E Lewis, who is invited to work for the Mob during the Prohibition era, and whose voice is ruined in a hoodlum horror throat slashing when he decides to work elsewhere. But he makes a comeback as a stand-up comic before taking to self-destructive heavy drinking.
There is a strong star turn from Ol' Blue Eyes, pleasing playing from Mitzi Gaynor and Jeanne Crain as Lewis's hot flames Martha Stewart and Letty Page, a good period feel, and (among the nice period songs) the big Best Original Song Oscar-winning number 'All the Way' (music by Jimmy Van Heusen and lyrics by Sammy Cahn).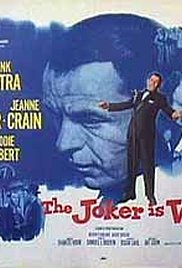 Look out for the 'Last of the Red Hot Mamas' – singer Sophie Tucker – as herself, who in the story gives Lewis his break as a comedian. Also in the cast are Eddie Albert as Lewis's faithful pianist Austin Mack, Beverly Garland as Cassie Mack, Jackie Coogan as Swifty Morgan, Ted de Corsia, Barry Kelley, Leonard Graves, Valerie Allen, Hank Henry, Don Beddoe, Bill Baldwin Sr, Wally Brown, Paul Bryar, Dick Elliott, Ruby Fleming, Paul Gary, Ned Glass, John Harding, Harold Huber, Walter Woolf King, Sid Melton, Frank Mills, George Offerman, Mary Treen, Ned Weaver, Eric Wilton, Paul Salata, Mabel Rea, William Pullen, Arturo Petterino, Hariette Tarler and Ralph Montgomery.
Financed by Paramount Pictures, it runs 124 minutes, is written by Oscar Saul, is shot in colour widescreen by Daniel L Fapp, produced by Samuel J Briskin, it is scored by Walter Scharf and Harry Harris, designed by Hal Pereira and Roland Anderson, and choreographed by Josephine Earl.
It was re-released as All the Way to cash in on the song's success.

Sinatra read and bought the rights to Art Cohn's book The Joker Is Wild: The Story of Joe E Lewis. Then Paramount financed the film's production, headed by partners Lewis, Sinatra, Vidor and Cohn, who were paid $400,000 and 75 per cent of the film's net profits. Sinatra ended up with $125,000 and 25 per cent of the film's profits.
Sinatra insisted on shooting later in the day and that all the songs were filmed live.
Sinatra: 'Lewis was one of only about four or five great artists in this [20th] century – one of them was Jolson – and I remember him screaming like the devil when he made a soundtrack.'
© Derek Winnert 2016 Classic Movie Review 4721
Check out more reviews on http://derekwinnert.com