The Hunchback of Notre Dame ***** (1939, Charles Laughton, Maureen O'Hara, Cedric Hardwicke, Thomas Mitchell, Edmond O'Brien, Alan Marshal, Walter Hampden) – Classic Movie Review 720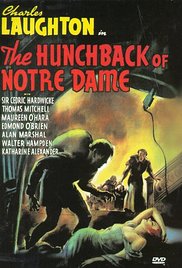 'BIG beyond words!…Wondrous beyond belief!…Magnificent beyond compare!' This brilliant RKO studio movie from 1939 is simply the best version of the famous Victor Hugo literary classic, lit up by Charles Laughton's inspired portrayal of Quasimodo, the hunchback bell-ringer at the Notre Dame Cathedral in Paris, who silently loves the gypsy dancing girl Esmeralda (Maureen O'Hara) who takes pity on him.
Sir Cedric Hardwicke enjoys himself hugely in a subtle, smouldering turn as the chief villain  –Chief Justice Frollo, who is infatuated with Esmeralda and eventually frames her for murder. Laughton's extraordinary performance in grotesque make-up (it daily took two and a half hours to put on) as Quasimodo dominates the movie, while his protégé, the ravishingly gorgeous young O'Hara, proves a splendid choice as Esmeralda. She is quite dazzling, the perfect beauty for the perfect beast.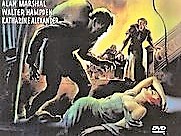 Director William Dieterle relishes all the detail of the 15th-century France period as he summons up the vivid local atmosphere and orchestrates the huge crowd scenes. And, with the help of Joseph August's distinguished, gleaming black and white cinematography, points his cameras lovingly at set designer Van Nest Polglase's extravagant and thrillingly evocative studio re-creations of Paris and Notre Dame. The cathedral's replica cost RKO a then whopping $250,000, a big chunk of the film's budget.
A marvellous mega-budget studio production ($1,800,000) can also afford the humungous number of extras who make it look so astounding. But it is Laughton's brilliant performance that gives it real heart at its centre and O'Hara's incandescent performance its true soul.
There is also outstanding star character actor support from Hardwicke, Thomas Mitchell (Clopin, king of thieves), Edmond O'Brien (the poet Gringoire), Alan Marshal (Phoebus, the brave captain of the guard), Walter Hampden (the Archdeacon), Katherine Alexander (Madame de Lys), Helene Whitney [Helene Reynolds] (Fleur de Lys) and Harry Davenport as the wise old King Louis XI, king of France from 1461 to 1483.
Also in the cast are George Zucco as the Procurator, Curt Bois, George Tobias, Rod La Roque, Minna Gombell (Queen of Beggars), Fritz Leiber (Old Nobleman), Etienne Girardot (Doctor), Arthur Hohl (as Olivier), Spencer Charters, Rondo Hatton and Kathryn Adams as Fleur's companion.
It runs 117 minutes, is written by Sonya Levien and Bruno Frank, is produced by Pandro S Berman and scored by Alfred Newman.
Other versions include: The Hunchback of Notre Dame (1923) with Lon Chaney Sr, The Hunchback of Notre Dame (1956) with Anthony Quinn, The Hunchback of Notre Dame (1982) with Anthony Hopkins and the animated The Hunchback of Notre Dame (1996) with the voice of Tom Hulce.
aged 95.
Kathryn Adams died on 14 aged 96.
© Derek Winnert 2017 Classic Movie Review 720
Check out more reviews on http://derekwinnert.com