The Glass Key ***** (1942, Alan Ladd, Veronica Lake, Brian Donlevy, William Bendix, Joseph Calleia, Moroni Olsen, Richard Denning, Bonita Granville, Arthur Loft) – Classic Movie Review 1010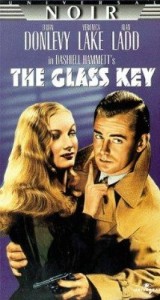 Director Stuart Heisler's excellent 1942 remake of director Frank Tuttle's little-known 1935 film adaptation of the Dashiell Hammett classic thriller novel The Glass Key that starred George Raft and Claire Dodd, finds the whole cast and crew hitting their career peak.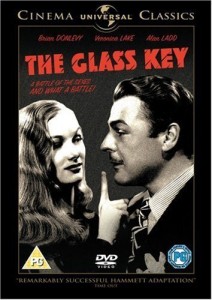 This time Alan Ladd and Veronica Lake are perfectly teamed up again after their hit with This Gun for Hire (also released in 1942).
Ladd plays Ed Beaumont, the right-hand-man sidekick of crooked politician Paul Madvig (Brian Donlevy), who is charged with murder.
Lake plays Janet Henry, the enigmatic blonde femme fatale in the case. William Bendix steals their limelight and nearly steals the show as Jeff, the sadistic bodyguard of thuggish gangster Nick Varna (Joseph Calleia).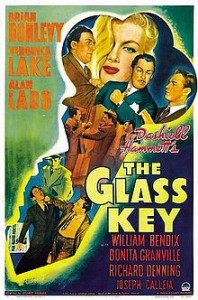 Madvig decides to clean up his act to campaign for re-election, refusing Varna's support and allying himself instead with respectable reformist politician Ralph Henry (Moroni Olsen). But then there is a murder.
[Spoiler alert] Beaumont finds the body of Henry 's son Taylor (Richard Denning), a gambler and the lover of Madvig's sister Opal (Bonita Granville), on the street in front of Madvig's place. Varna uses a newspaper's financial situation to force its publisher Clyde Matthews (Arthur Loft) to report that Madvig might have killed Taylor, prompting him to be charged with murder.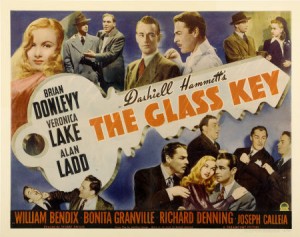 It is great, legendary, classic Hollywood film noir stuff, dark, murky and smoky but with a brandyish hint of dry humour, and exactly right for Hammett. Jonathan Latimer's screenplay is admirably crisp and clear, finding a path through Hammett's complex original, and Heisler's direction is focused and pacey. It is all done and dusted in just 85 minutes, and there is a fantastic look and stupendous flavour and atmosphere to the action.
Also in the cast are Joseph Calleia, Moroni Olsen, Frances Gifford, Donald McBride, Margaret Hayes, Eddie Marr, George Meader, Billy Benedict, Norma Varden, Al Hill, Frank Hagney, Tom Fadden, Edmund Cobb, Dane Clark, Pat O'Malley, Edward Peil Sr, Jack Mulhall, James Millican, Charles Sullivan, George Turner and Jack Gardner.
Tom Dugan's scenes as Jeep were deleted.
It runs 85 minutes, is produced by Paramount, iis written by Jonathan Latimer, is shot by Theodor Sparkuhl, is produced by Fred Kohlmar, is scored by Victor Young and is designed by Hans Dreier and Haldane Douglas.
Ladd and Lake teamed up again for Raymond Chandler's The Blue Dahlia in 1946.
http://derekwinnert.com/the-blue-dahlia-1946-alan-ladd-veronica-lake-classic-film-review-1012/
© Derek Winnert 2014 Classic Movie Review 1010
Check out more reviews on http://derekwinnert.com/