The Ghost Train **** (1941, Arthur Askey, Richard Murdoch, Kathleen Harrison, Morland Graham, Herbert Lomas, Linden Travers, George Merritt) – Classic Movie Review 5162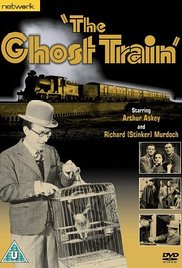 Ten years on in 1941, director Walter Forde gets to remake his own great 1931 comedy movie success The Ghost Train, based on playwright Arnold Ridley's vintage stage play, now polished up as a vehicle for the popular radio entertainers 'Big-Hearted' Arthur Askey and Richard 'Stinker' Murdoch.
This time, in the revised screenplay by Marriott Edgar, Val Guest, J O C Orton and Sidney Gilliat, eight travellers are stuck at a Cornish rail station, where they are terrified not by the smugglers of the original play but by World War Two fifth columnists dealing in weapons.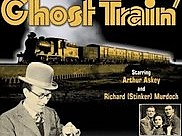 Askey is every which way in his efforts to entertain, which he does splendidly, as Tommy Gander who sees off the traitors, Murdoch supports him loyally as his friend Teddy and Herbert Lomas is the other hit turn as the glum station-master who tries to frighten the stranded passengers.
After an over-lengthy and sedate initial set-up and exposition, it gets into its comic stride and really delivers the fun, laughs and comic scares. The film develops into enormously enjoyable, exuberant entertainment.
Other assets in the cast include Kathleen Harrison, Morland Graham, Linden Travers, George Merritt, Sydney Monckton, Wallace Bosco, D J Williams, Stuart Latham, Betty Jardine, Raymond Huntley, Carole Lynne, Peter Murray Hill and Wilfrid Lawson.
The playwright became a TV star in his old age as Private Godfrey in the classic sitcom Dad's Army.
© Derek Winnert 2017 Classic Movie Review 5162
Check out more reviews on http://derekwinnert.com