The Fly II ** (1989, Eric Stoltz Daphne Zuniga) – Classic Movie Review 5304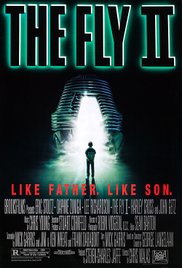 Director Chris Walas's 1989 sequel to the 1986 The Fly is really Son of the Fly, in what is actually a remake of the 1959 Return of the Fly, the first sequel to the original The Fly (1958).
So what we have here is Eric Stoltz as Martin Brundle, the hapless offspring of Seth Brundle, the mutant scientist played by Jeff Goldblum in part one. Martin grows to manhood in five years, is exploited by the scientists supposedly caring for him and falls in love with Beth Logan (Daphne Zuniga). But soon his skin starts falling off…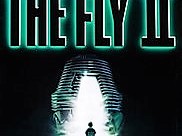 The movie is not nearly in the class of David Cronenberg's 1986 film, but Stoltz is a good actor who does justice to a difficult role, the special effects (also by Walas, promoted director after his Oscar-winning work on the 1986 original) are satisfyingly gooey, and there are engaging hints of dark humour. The film is – perhaps thankfully,  perhaps not, according to taste – not as gruesome as the 1986 The Fly.
However, you may want to spare a kind thought for poor Stoltz, who last suffered terrible makeup troubles in Mask (1985).
Also in the cast are Lee Richardson, Harley Cross, Gary Chalk, Ann Marie Lee, Frank Turner, John Getz, Saffron Henderson and Matthew Moore.
It is made by Mel Brooks's Brooksfilms, released by 20th Century Fox, written by Mick Garris, Jim Wheat, Ken Wheat and Frank Darabout, shot by Robin Vidgeon, produced by Steven-Charles Jaffe and scored by Christopher Young.
A remake of The Fly is on for 2017.
© Derek Winnert 2017 Classic Movie Review 5304
Check out more reviews on http://derekwinnert.com