The Flintstones in Viva Rock Vegas ** (2000, Mark Addy, Kristen Johnston, Stephen Baldwin, Joan Collins, Ann-Margret, Jane Krakowski, Alan Cumming, Thomas Gibson, Harvey Korman) – Classic Movie Review 3899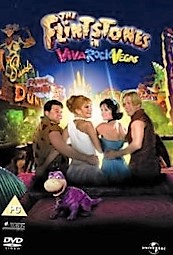 Britain's Mark Addy takes over from John Goodman as Fred Flintstone, who travels to Rock Vegas where his future wife Wilma Slaghoople is pursued by playboy Chip Rockefeller (Thomas Gibson), in this soppy but happy 2000 prequel to the 1994 original The Flintstones.
The young Flintstone and Rubble families travel to Rock Vegas where Wilma has a rocky road with Chip Rockefeller in this unexpected sequel with all the old cast gone, but a pretty good new ensemble, game for a laugh, doing quite well by it all.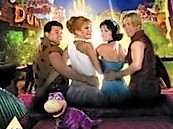 It is set in Bedrock 2 million years BC, where Fred and Wilma (Addy, Kristen Johnston) help their neighbours Barney Rubble and Betty O'Shale (Stephen Baldwin, Jane Krakowski). Joan Collins amuses as Fred's future mother-in-law from hell, Pearl Slaghoople.
Also aboard are Alan Cumming as Mick Jagged, Harvey Korman as Colonel Slaghoople, Alex Meneses, John Taylor as Keith Rockhard, Tony Longo as Big Rocko, Danny Woodburn as Little Rocko, Taylor Negron, Jack McGee and Gary Epp. So there is plenty of comedy talent on screen to make it work at least some of the time.
Ann-Margret appears – alas simply to join in and sing a disco version of her old movie Viva Las Vegas (1964) hit song, Viva Las Vegas, now of course called Viva Rock Vegas.
© Derek Winnert 2016 Classic Movie Review 3899
Check out more reviews on: derekwinnert.com