The Flintstones ** (1994, John Goodman, Rick Moranis, Elizabeth Perkins, Rosie O'Donnell, Kyle MacLachlan, Halle Berry, Elizabeth Taylor) – Classic Movie Review 3900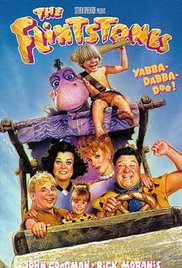 Director Brian Levant's good-natured 1994 hit comedy is a desperate-to-please, juvenile farce based on William Hannah and Joseph Barbera's beloved Sixties TV cartoon series The Flintstones (1960–1966). Despite its shortcomings, it has speed, some funny sight gags, a superior production and the genial performances from a good cast on its side.
The perfectly cast John Goodman is engaging and funny as Fred Flintstone, Elizabeth Perkins, Rick Moranis and Rosie O'Donnell are ideal as Wilma Flintstone, Barney Rubble and Betty Rubble, and Elizabeth Taylor greatly amuses as his mother-in-law from hell, Pearl Slaghoople.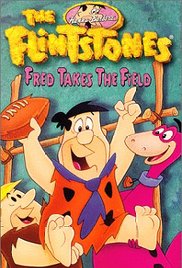 However, even with audiences' brains in neutral, this fast-food entertainment is desperately short of real imagination and good jokes, while the slapstick, knockabout-style story is a weak peg on which to hang a comedy blockbuster. Nevertheless, survival poor reviews, it was a popular hit. Costing $45 million, it took $130,500,000 at the US box office, and another nearly £20 million in the UK.
It is set in Bedrock two million years BC, when married couple Fred and Wilma Flintstone (Goodman, Perkins) help their neighbours Barney and Betty Rubble (Moranis, O'Donnell) with some money to adopt baby Bamm-Bamm.
Fred and Barney are working together at Slate and Company quarry, mining rock. And in return for the favour Barney swaps an aptitude test with the big-hearted, dimwitted Fred, whose answers aren't good.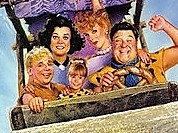 So Fred is promoted to being the new associate vice president with an executive suite at the Slate and Company rock quarry, where yuppie executive Cliff Vandercave (Kyle MacLachlan) and sultry secretary Miss Stone (Halle Berry) are using him to hatch their embezzlement plot.
Fred is on easy street while Barney is fired, testing the friendship of the two families. And, when the embezzlement is discovered, only a cantankerous Dictabird (voice of Harvey Korman) can save Fred, who's been manipulated as the fall guy for the embezzlement scheme.
Also in the cast are Dann Florek, Richard Moll, Jonathan Winters, Irwin Keyes, Jack O'Halloran, Sheryl Lee Ralph and Janice Kent.
Amazingly, a sequel followed: The Flintstones in Viva Rock Vegas (2000), also directed by Brian Levant but with a different cast.
Goodman was not keen to take on the role of Fred Flintstone, as he knew he would be saying Yabba Dabba Doo! for the rest of his life.
© Derek Winnert 2016 Classic Movie Review 3900
Check out more reviews on: derekwinnert.com