The Emperor Waltz *** (1948, Bing Crosby, Joan Fontaine, Roland Culver, Lucile Watson, Richard Haydn) – Classic Movie Review 5942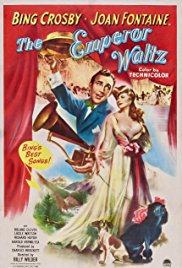 The acid Billy Wilder directs a 1948 film of a sugary Viennese operetta, and the resulting romantic comedy musical is extremely well done.
Bing Crosby is improbably cast but ingratiating as a pushy American gramophone salesman called Virgil Smith, who in 1901 travels from America to Austria to try to sell the newly invented phonograph to Austrian emperor Franz Josef (Richard Haydn), looking for his endorsement. But soon his dog is bitten by a poodle, owned by the lovely royal niece Countess Johanna (Joan Fontaine) whom naturally Crosby quickly finds himself romancing.
Wilder tried to ask himself what his mentor Ernst Lubitsch would do. And this is the happy result.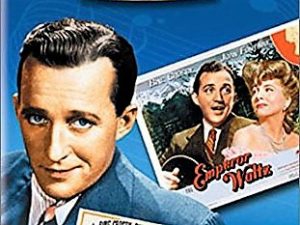 George Barnes's Technicolor photography, the sets (designed by Hans Dreier and Franz Bachelin), costumes, scoring, songs, Crosby's trilling, the support players, and Wilder and Charles Brackett's screen-writing are all top class in this fine old-style entertainment.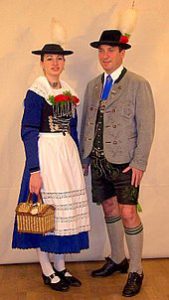 Crosby's knees do look funny in lederhosen though. Victor Young was Oscar nominated for Best Scoring of a Musical Picture and Edith Head and Gile Steele were Oscar nominated for Best Costume Design, Color.
Also in the cast are Roland Culver, Lucile Watson, Richard Haydn, Harold Vermilyea, Sig Ruman, Julia Dean, Doris Dowling, James Vincent, Harry Allen, Jack Gargan and Gerald Mohr.
On the soundtrack are The Emperor Waltz and Get Yourself a Phonograph, with music by Jimmy Van Heusen and lyrics by Johnny Burke, as well as The Kiss in Your Eyes, Friendly Mountains and I Kiss Your Hand, Madame.
It was shot in Jasper National Park, Alberta, Canada.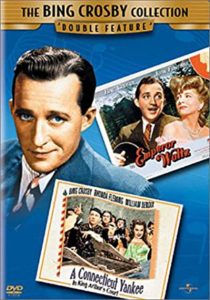 It is on a double feature DVD with Crosby's A Connecticut Yankee in King Arthur's Court (1949).
© Derek Winnert 2017 Classic Movie Review 5942
Check out more reviews on http://derekwinnert.com