The Deer Hunter ***** (1978, Robert De Niro, John Savage, Christopher Walken, Meryl Streep) – Classic Movie Review 346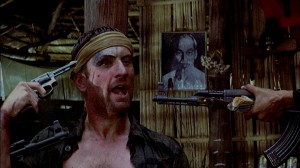 The year 1978 brought this all-time great, memorable epic tale of three young Pennsylvanian steelworker buddies who patriotically enlist into the US Army to fight in Vietnam, and end up enduring the harshest, most devastating of experiences during and after the Vietnam War.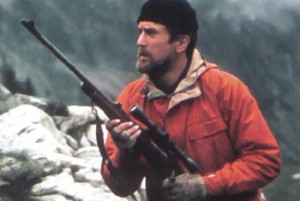 Robert De Niro, John Savage and Christopher Walken play Michael, Steven and Nick, the Russian immigrant steel mill workers. Before they go to 'Nam, Steven marries the pregnant Angela (Rutanya Alda) at a wedding party that's also the men's farewell. All the town celebrates, and there is singing, dancing, laughter and drinking.
The three men and their buddies Stan (John Cazale) and Axel (Chuck Aspegren) go deer hunting in the mountains, De Niro and an armed but otherwise unprepared Cazale quarrel, and De Niro shoots a deer, which they bring home as a trophy on their car. Linda (Meryl Streep) asks if she can stay in De Niro and Walken's home while they're away. Streep's supposed to be Walken's girlfriend but De Niro likes her too. Walken says he'll marry her on his return.
Michael, Steven and Nick arrive in Vietnam. After some war horrors abroad, the trio suddenly fall into the hands of the Vietcong and are taken to a bamboo prison camp by the water, where armed Vietcong force them to play sick deadly games of Russian roulette. Savage starts to fall to pieces and is badly wounded, while De Niro and Walken play against each other with three bullets in the chamber in an attempt to escape.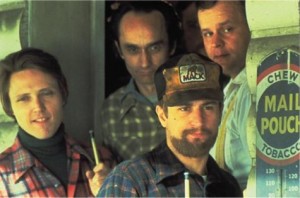 Director Michael Cimino's triumphant success won five Oscars, including Best Film, Best Director, Best Supporting Actor (Walken), Best Sound (Richard Portman, William L McCaughey, Aaron Rochin, C. Darin Knight) and Best Film Editing (Peter Zinner). Cimino also won the Golden Globe as Best Director. There were two Baftas, for Best Cinematography (Vilmos Zsigmond) and Best Film Editing (Peter Zinner).
Cimino films in a complex cross-cutting structure, juxtaposing contrasting locations and tones, but still keeping effective control of the narrative while giving full rein to his love of visual sweep and imagery. The film speaks of and to the disillusioned America of the immediate post-Vietnam period,  and questions its values and ideals. Some found the film anti-patriotic, an idea fuelled by its British financing.
Though it gives hints of how the world (or America) could be with other values, The Deer Hunter addresses the real world and is certainly depressing. But no one can have problems calling it a Seventies classic or a cinema masterpiece. Its power is all the detail, the atmosphere, the characters, and the lives.
It takes plenty of time and care on all this, in a way that no present-day film would, but it is never once slow, slack or dull. Just the opposite, it's riveting. The frightening, sometimes sickening war scenes most significantly and famously include the controversial game of Russian roulette that caused a furore when Cimino's claim that it was based on fact was hotly disputed.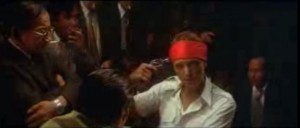 It's very much a director's movie and a cinematographer's one too. There's just glorious Oscar-nominated work on camera from the great Hungarian cinematographer Vilmos Zsigmond, who had just won an Oscar as director of photography on Close Encounters of the Third Kind and was to go on to do marvellous work on Cimino's ill-fated Heaven's Gate. Zsigmond should have won and Oscar and a Golden Globe for The Deer Hunter but had to be content with the Bafta for Best Cinematography.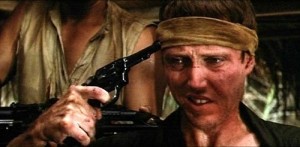 But the performances offer eye-catching triumphs too. The movie's headed up by a remarkable barnstorming star turn by De Niro, who was Oscar nominated as Best Actor. De Niro is splendidly, scarily tough and resilient, quiet and gentlemanly on the outside, steely and dangerous on the inside. He's a true American hero for the late Seventies.
Then there's a reputation-making, crazed one from the remarkable Walken, who went on to play equally memorably in Cimino's Heaven's Gate (1980). This is the naturalistic, truthful Walken, before he picked up the Walken mannerisms, turning from angel-faced, sweet and charming and fun, to a wasted, haunted and hollow-eyed burnt-out case with a death wish. After all the brilliant work since, it remains Walken's only Oscar, though he was nominated (and just the once) as Best Actor in a Supporting Role for Catch Me If You Can (2002).
Both De Niro and Walken are in their different ways incredibly sympathetic, which isn't their usual thing at all. And in support there are impeccable performances from Savage, John Cazale and Meryl Streep (Oscar-nominated in an early role), all three of them perfect and with plenty to do to develop their characters.
It's celebrated as one of Hollywood's biggest commercial and critical successes ever, which was just as well for British company EMI, who partly financed the costly movie along with American studio Universal. However, I'll stick my neck out and say that, outstanding, even brilliant though the film is, it's not quite the electrifying, mesmeric work that Apocalypse Now is.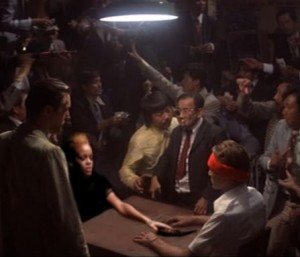 Washburn's splendid screenplay is based on a story by Cimino, Washburn, Louis Garfinkle and Quinn Q Redeker.
The film-makers in the credits gratefully acknowledge the cooperation of the Thai crew in the production.
Footage is included in the film of an incident that occurred during the helicopter stunt. The runners caught on the ropes and as the helicopter rose, it threatened John Savage and Robert De Niro, who waved and yelled furiously to the crew in the helicopter to warn them.
De Niro and Cimino visited a steel works early in pre-production and were so impressed with the foreman Chuck Aspegren that they offered him the role of Axel, making him only the second person to be cast after De Niro. He makes a strong impression, but it is his only film appearance.
Cimino said in 2005; 'I am proud to say there are no special effects in this movie. When you see 9000 refugees in the night in a burning Saigon, that is 9000 people in the night. For real. When you see the actors jumping out of a helicopter, that's really the actors. Everything I asked of the actors, they gave.'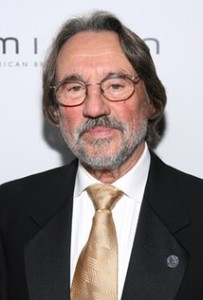 Vilmos Zsigmond died on January 1 2016, aged 85. He was known for his use of natural light and vivid use of colour on films like The Long Goodbye (1973) and Close Encounters of the Third Kind (1977), for which he won the Oscar for Best Cinematography. He was also nominated for The Deer Hunter (1978), The River (1984) and The Black Dahlia (2006).
aged 77. He was the maker of  Thunderbolt and Lightfoot (1974), The Deer Hunter (1978), Heaven's Gate (1980), Year of the Dragon (1985), The Sicilian (1987), Desperate Hours (1990), The Sunchaser (1996).
http://derekwinnert.com/apocalypse-now-classic-film-review-344/
© Derek Winnert 2013 Classic Movie Review 346
Check out more reviews on http://derekwinnert.com/