The Breakfast Club **** (1985, Emilio Estevez, Judd Nelson, Molly Ringwald, Ally Sheedy, Anthony Michael Hall) – Classic Movie Review 1786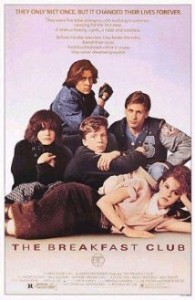 Writer-director John Hughes's fondly remembered 1985 movie is perhaps the key film of the Eighties phenomenon known as the Brat Pack, inspiring the movement and making the director's reputation. It followed Sixteen Candles (1984), his first movie as writer-director, also with stars Molly Ringwald and Anthony Michael Hall.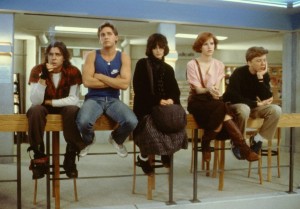 Ideally cast and perfectly performed, The Breakfast Club is a highly agreeable, teenage angst and rebellion comedy drama, with an intelligent and thought-provoking screenplay. In it, five archetypal ill-assorted high-school students discover they have a lot more in common than they thought while spending Saturday in detention in their school library.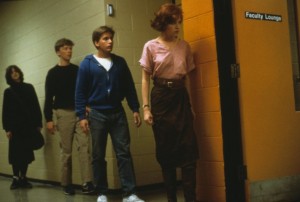 Athletic Andrew Clark (Emilio Estevez), delinquent John Bender (Judd Nelson), school beauty Claire Standish (Molly Ringwald), brainy Brian Johnson (Anthony Michael Hall) and reclusive Allison Reynolds (Ally Sheedy) are pupils at Shermer High School in the Chicago area. They have to write a 1,000-word paper on just who they think they are. When they meet at 7 am they have nothing to say to each other but by 4 pm they have bared their souls, poured their hearts out to each other and become best friends. And henceforth they will always be the Breakfast Club.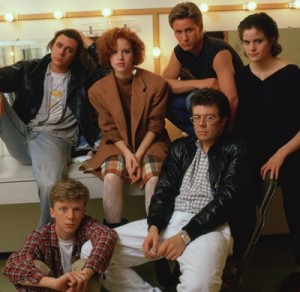 Although Hughes writes The Breakfast Club as an original movie screenplay, it would make an effective stage play, as it mostly consists of five people just sitting around and talking in the one location. But Hughes turns that simple and modest idea into a winning piece of popular cinema.
As if filming a stage play, he largely avoids any action or movement, and maintains the focus on the characters, their situations and the dialogue. However, the movie's the middle section breaks the pattern a little by changing the mood and pace with a raid on the lockers, a dope-smoking session and a burst of dancing by Estevez.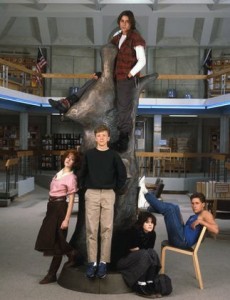 Hughes's cinema conversation piece is always riveting, often charming and sometimes very moving – and now it is quite haunting as a significant Eighties relic and icon.
Sheedy's Allison character is such a reclusive basket case that she does not speak until 33 minutes into the film, cutting Sheedy's role quite a bit.
Hughes, who has an uncredited acting role as Brian's father, died of a heart attack on , aged 59.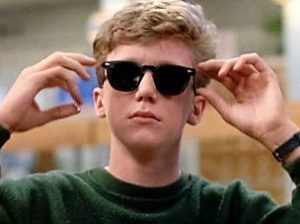 A restored version of the film is showing in 430 US cinemas on March 26 and 31 2015 for its 30th anniversary. The 30th Anniversary Edition is available on Blu-ray and DVD on March 10. In celebration of the anniversary, 1,300 fans watched the premiere of the restored film on March 16 2015 at the iconic Paramount Theatre in Austin, Texas. Molly Ringwald and Ally Sheedy attended a Q&A beforehand.
© Derek Winnert 2014 Classic Movie Review 1786
Check out more reviews on http://derekwinnert.com/