The Black Shield of Falworth **** (1954, Tony Curtis, Janet Leigh, David Farrar, Barbara Rush, Herbert Marshall, Ian Keith, Rhys Williams, Dan O'Herlihy, Torin Thatcher) – Classic Movie Review 4540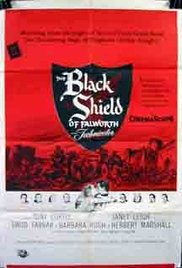 Though Tony Curtis had only just become a star two years earlier with Son of Ali Baba), this 1954 movie from his absolute prime is already his 20th film. It is an engagingly merry jape, in which he heads a starry cast as the dashingly handsome young Myles Falworth of Crisby Dale, who is in love with the lovely Lady Ann of Mackworth (Janet Leigh). It is the second of five films husband and wife Curtis and Leigh appeared in together.
David Farrar plays the villain, the wicked Earl of Alban, who leads a plot against English King Henry IV (Ian Keith), in this jolly, rousing Ye Olde Englishe swashbuckling romantic adventure.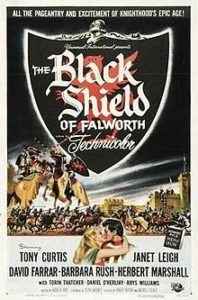 The nimble, on-target acting, Rudolph Maté's fleet-footed direction, Irving Glassberg's thrilling Technicolor widescreen cinematography and exciting action scenes are four compelling reasons to watch. They easily make up for Oscar Brodney's rather bland screenplay (based on Howard Pyle's novel Men of Iron) with its silly romantic sequences, some hilariously tongue-twisting dialogue and caricatures instead of rounded characters.
On the acting front, Herbert Marshall is especially fine as the Earl of Mackworth, while Keith and Dan O'Herlihy score strongly too as Henry IV and his son Prince Hal. Also in the cast are Barbara Rush as Myles's sister Meg, Rhys Williams as Myles's and Meg's guardian Diccon Bowman, Torin Thatcher as Sir James, Craig Hill, Patrick O'Neal, Leo Britt and Claud Allister.
Curtis recalled: 'Another crazy story about knights in armour and damsels in distress, but it was the first and last one I did with Janet. It was also Universal's first film in CinemaScope.'
The score is composed by Hans J Salter.
The second of Curtis and Leigh's five films together, it is preceded by Houdini (1953) and followed by The Vikings (1958), The Perfect Furlough (1958) and Who Was That Lady (1960).
© Derek Winnert 2016 Classic Movie Review 4540
Check out more reviews on http://derekwinnert.com