The Big Sleep ***** (1946, Humphrey Bogart, Lauren Bacall) – Classic Movie Review 69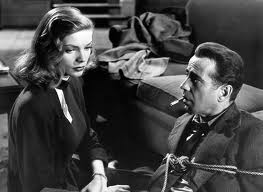 Director Howard Hawks turns Raymond Chandler's hardboiled novel into a brilliantly atmospheric, edge-of-seat suspenseful and exciting film noir masterpiece. Humphrey Bogart is everyone's idea of Chandler's cynical anti-hero, the smooth, cocksure if down-at-heel private eye Philip Marlowe.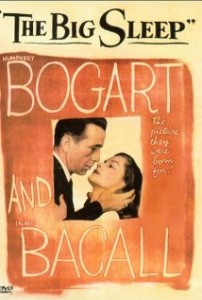 In the archetypal story, Marlowe is hired to protect the wealthy General Sternwood (Charles Waldron)'s wayward young daughter Carmen (Martha Vickers) from a blackmailer (Theodore Von Eltz) with embarrassing pictures of her. This involves Marlowe in an ever-increasingly taut and deadly game that includes several killings, being beaten up and a memorable love-hate relationship with Carmen's married elder sister Vivian (Lauren Bacall).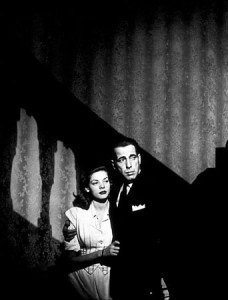 There's no doubt that the story's a gripper all right, but what gives the movie extra real class is the perfect performances of Bogart and Bacall, the witty script with its authentic Chandler repartee ('You're not very tall, are you Mr Marlowe?' 'Next time I'll come on stilts'), the world-weary atmosphere and the corkscrew-taut tension throughout, as well as Hawks's effortless-seeming command of the cynical sweet-sour material.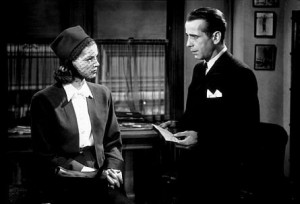 But the movie demands audiences pay attention: this isn't one of those brain-in-neutral blockbusters. Hawks claimed 'Neither the author, the writer (William Faulkner) nor myself knew who had killed whom. Hawks even actually telegrammed Chandler to find out who killed the general's chauffeur. Chandler replied: 'How should I know? You figure it out.'
Are we really expected to believe that Hawks and Chandler couldn't understand the plot? Well it's certainly labyrinthine, but really not that difficult to follow. Just go with the flow, keep alert, and simply yield to its dark joys it's just so vastly entertaining.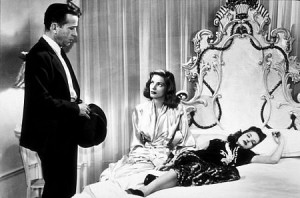 This was Bacall's second film with Bogart (after To Have and Have Not), made while she was falling in love with him. It was made in 1944-45, then shelved for 18 months by Warner Brothers, substantially reshot, beefing up Bacall's role, and released to huge acclaim after her flop and universally bad notices in Confidential Agent.
Warners' big studio boss Jack L Warner was persuaded to re-film it by Bacall's agent. That's power! Warner apparently had given Hawks $50,000 to buy the rights of Chandler's novel so he could film it with Bogart and Bacall. Hawks bought it for $5,000 and kept the change.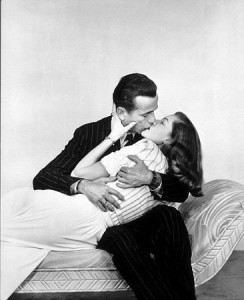 The 1945 original version of The Big Sleep is now available: it's fascinating, but it is slackly paced and lacks most of the resonance and sheer burning spark of the final 1946 version. Leigh Brackett and Jules Furthman also worked on the screenplay.
Bogart on Vickers in the movie: "She tried to sit on my lap while I was standing up.'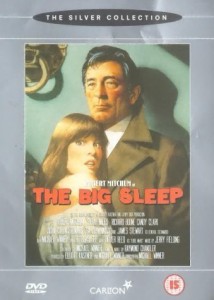 It was remade by Michael Winner in the UK in 1978 with Robert Mitchum, who also played Marlowe in Farewell My Lovely in 1975.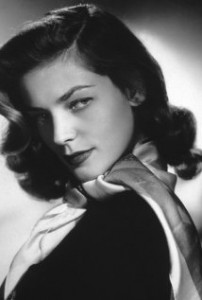 Adored screen legend Lauren Bacall died on August 12 2014, aged 89.
http://derekwinnert.com/the-big-sleep-mitchum-1978-classic-film-review-742/
http://derekwinnert.com/dark-passage-1947-humphrey-bogart-lauren-bacall-classic-movie-review-1344/
http://derekwinnert.com/key-largo-1948-humphrey-bogart-lauren-bacall-edward-g-robinson-classic-movie-review-1345/
© Derek Winnert 2013 Classic Movie Review 69
Check out more reviews on http://derekwinnert.com/