The Big Blue [Le Grand Bleu] ***½ (1988, Jean-Marc Barr, Jean Reno, Rosanna Arquette) – Classic Movie Review 4462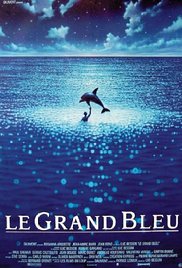 Jean-Marc Barr and Jean Reno star as two divers, rivals since childhood, who battle for supremacy of the deep.
Director Luc Besson's fascinating but under-written and overblown 1988 movie was a huge hit with the French young people of the day and those who liked underwater filming and Eric Serra's music score.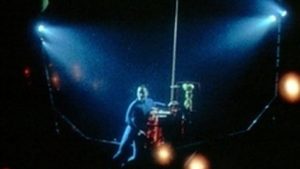 Barr makes a handsome, iconic hero as Jacques Mayol, and Reno makes a strong impression in the quirky buddy role of Enzo Molinari, but Rosanna Arquette is wasted as his love interest, Johana Baker, a dopey claims checker for an insurance company.
It does have the air of an impressive folly about it – what the French call folie de grandeur. It is supposedly a real-life story, and it must be based on truth as Mayol is one of the five writers, along with Besson, Robert Garland, Marilyn Goldin and Marc Perrier.
It was cut for an international version to 119 minutes but later re-released in cinemas in France in a long version (Le Grand Bleu Version Intégrale) at 168 minutes to even more popular acclaim, and this version is available on video/ DVD in the UK. Eric Serra's score was replaced by Bill Conti's music in the international version.
Despite its success back home in France, and substantial publicity and advertising, it was not a hit in America or Britain.
Also in the cast are Paul Shenar, Griffin Dunne, Sergio Castellito and Marc Duret.
© Derek Winnert 2016 Classic Movie Review 4462
Check out more reviews on http://derekwinnert.com