The Battle of the Sexes *** (2103, Billie Jean King, Bobby Riggs) – Movie Review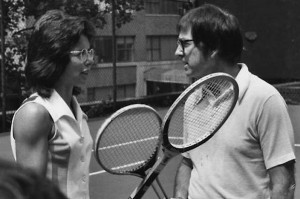 'I wanted to change the hearts and minds of people,' says Billie Jean King. And this is how she did it.
The Battle of the Sexes is a surprisingly excellent and entertaining documentary about 29-year-old tennis champ Billie Jean King's battle on the Houston Astrodome court against 55-year-old former Wimbledon champ Bobby Riggs in September 1973. The ghastly old hustler, self-publicist and male chauvinist has challenged her to the best of five sets, with a winner-takes-all prize of $100,000 and an astounding global audience of 50 million people.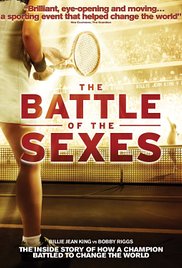 Somehow, King simply has to win: as well as reigning Wimbledon champion, she's the political poster girl for the Women's Lib movement and founder of the movement for equality in sport. And Riggs has just demolished another champion, Margaret Court.
'She doesn't stand a chance against me,' he goads. 'Women's tennis is so far beneath men's tennis.' We shall see…
Great, eye-catching footage has been painstakingly and imaginatively assembled for this hugely entertaining and revealing film. Most of the participants are interviewed, again to huge effect, and it is poignant to see how all those young faces and bodies and minds of the Seventies have fared 40 years later.
An ace of a film. Game, set and match to Billie Jean King. She really did change stuff.
© Derek Winnert 2013 Movie Review
Check out more reviews on http://derekwinnert.com