The Bad News Bears *** (1976, Walter Matthau, Tatum O'Neal, Vic Morrow, Joyce Van Patten, Jackie Earle Haley) – Classic Movie Review 4171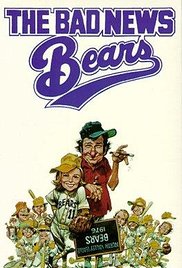 The Good News is that this big hit proved good news for talented director Michael Ritchie, the maker of Downhill Racer, Prime Cut, The Candidate and Smile.
Walter Matthau stars in this likeable 1976 comedy as grouchy old baseball pro Morris Buttermaker. Once a minor-league baseball player and now a beer-swilling pool cleaner, he takes up a position coaching a useless bunch of rough kids and brings sassy pitching ace Amanda Whurlitzer (Tatum O'Neal) in to help him turn them into contenders. He also brings aboard motorcycle punk Kelly Leak (Jackie Earle Haley), the best player around.
Bill Lancaster's screenplay is amusing enough but it is also on the thin, lazy and soppy side. After the marvellous run of Downhill Racer, Prime Cut, The Candidate and Smile, we expected something much sharper of a movie from Ritchie in those days. So it is just as well that Matthau, O'Neal and Haley are aboard and all three are on such good form.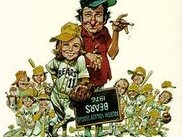 The one-note humour relies heavily on the repeated joke of the alcoholic coach's irresponsible behaviour – drinking beer and and driving, taking the team for a ride without seat belts, allowing the kids to smoke – and the insistent joke of the kids' swear word language, cruddy, goddamn, shit, bullshit, ass, asshole, bastard, son of a bitch, damn, hell and the N word. Well, Buttermaker, Whurlitzer and Leak may be bad role models, but nowadays, the movie has a PG certificate.
Also in the cast are  Vic Morrow, Joyce Van Patten, Ben Piazza, Erin Blunt, Jaime Escobedo, George Gonzalez, Alfred W Lutter, Brett Marx, David Pollock, Quinn Smith, Brandon Cruz, Gary Lee Cavagnano and David Stambaugh.
It was a huge hit and became the first film in a trilogy, though it is surprising that neither of the hit-hungry stars did the sequels: The Bad News Bears in Breaking Training (1977) with William Devane, Clifton James and Jackie Earle Haley and The Bad News Bears go to Japan (1978) with Tony Curtis and Jackie Earle Haley. Though, as you see, Haley is in all three movies.
© Derek Winnert 2016 Classic Movie Review 4171
Check out more reviews on http://derekwinnert