The 7th Voyage of Sinbad **** (1958, Kerwin Mathews, Kathryn Grant, Torin Thatcher, Richard Eyer) – Classic Movie Review 3719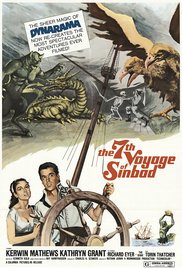 Director Nathan Juran's 1958 Arabian Nights fantasy adventure stars Kerwin Mathews as Sinbad, who, in the story by Ray Harryhausen, is searching for the cure that will return his love Princess Parisa (Kathryn Grant) back to her normal size after a wicked wizard (Torin Thatcher) has miniaturised her.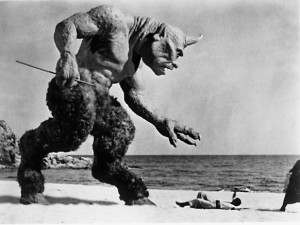 Mathews is dashing and Thatcher makes a superlative villain as Sokurah the evil magician in this tremendously enjoyable fantasy film. It is notable as the first feature with stop-motion animation effects to be fully shot in colour. Harryhausen's co-producer Charles H Schneer decided that they needed a gimmick to sell Harryhausen's visual effects technique and came up with the name Dynamation (dynamic animation) for this film.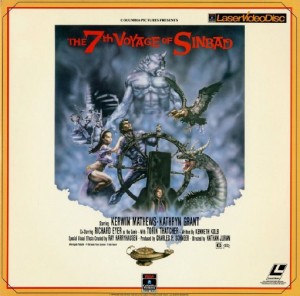 But it is effects wizard Ray Harryhausen's stop motion animation monsters that are the real stars, with special acclaim going to his giant cyclops, the mythological giant flying two-headed bird Roc (whose eggshells are ingredients to the potion to restore the Princess), the baby Roc (that emerges from the egg) and the superb skeleton swordsman.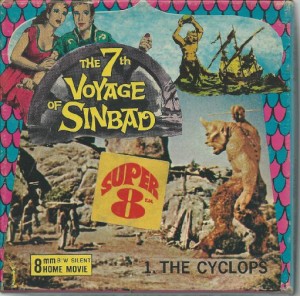 Bernard Herrmann's score (finally released on CD in 2009) adds enormously to the excitement and the movie proves great escapist entertainment for the young and young at heart of all ages.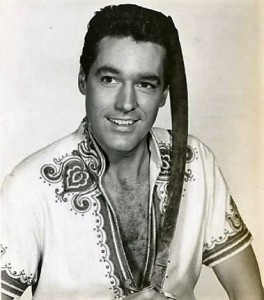 Also in the cast are Richard Eyer (Genie), Alec Mango (Caliph), Danny Green (Karim), Harold Kasket (Sultan), Alfred Brown (Harufa), Nana DeHerrera, Nino Falanga, Luis Guedes and Virgilio Teixeira.
Herrmann has scored three more of Harryhausen and Charles H Schneer's films: The 3 Worlds of Gulliver (1960), Mysterious Island (1961) and Jason and the Argonauts (1963). But Harryhausen's original preference Miklós Rózsa scored The Golden Voyage of Sinbad (1973).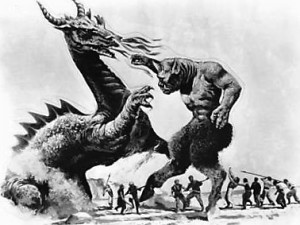 It is followed by The Golden Voyage of Sinbad (1973) and Sinbad and the Eye of the Tiger (1977).
© Derek  2016 Classic Movie Review 3719
Check out more reviews on derekwinnert.com