That Certain Woman *** (1937, Bette Davis, Henry Fonda, Ian Hunter, Anita Louise, Donald Crisp) – Classic Movie Review 6291
'You know, I believe I'm like one of those unfortunate gals you only read about in those dime novels… she only loved once.' – Mary Donnell. That Certain Woman is a glamorous-looking Bette Davis, who plays Mary Donnell, a mobster's widow who starts anew as a legal secretary to unhappily married lawyer Lloyd Rogers (played by Ian Hunter).
She elopes with a client's son Jack Merrick (Henry Fonda), but his father Merrick Sr (Donald Crisp) tracks them down and has the marriage annulled without knowing that she is pregnant. Later, Jack does not know that Mary has a son and he remarries.
Writer-director Edmund Goulding's little-known 1937 Warner Bros drama is a terribly sugary, old-style antique concoction, a quaint heirloom from another even earlier era, though it is busily plotted and done with conviction. It remains a very minor effort from Davis's best period of film-making. But, with a handsome production and strong acting from people like Davis, Henry Fonda, Anita Louise and Donald Crisp, it is worth while watching.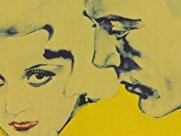 It is a remake of Gloria Swanson's talkie debut movie The Trespasser (1929), with Edmund Goulding reworking his original screenplay to little avail.
Also in the cast are Katherine Alexander, Mary Philips, Minor Watson, Hugh O'Donnell, Ben Welden, Sidney Toler, Charles Trowbridge, Norman Willis, Herbert Rawlinson, John Hamilton and Georges Renavent.
It is shot in black and white by Ernest Haller, produced by Hal B Wallis and Robert Lord, and scored by Max Steiner.
© Derek Winnert 2017 Classic Movie Review 6291
Check out more reviews on http://derekwinnert.com