Texas Lady ** (1955, Claudette Colbert, Barry Sullivan, Ray Collins, Gregory Walcott, James Bell, Horace McMahon) – Classic Movie Review 5478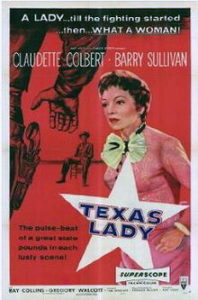 'WOMANLY WILES WERE HER WEAPONS!' Director Tim Whelan's 1955 Western has a surprise star in Claudette Colbert, who plays Prudence Webb, a determined woman who gambles with riverboat gambler Chris Mooney (Barry Sullivan) to pay back her late father's debts, and wins big time.
She rides to Fort Ralston in Texas to claim the Clarion newspaper that her father won in a card game and left her as her inheritance. She then takes over the newspaper as publisher and crusades against lawless cattle barons, battling injustice and violence in the Texas town.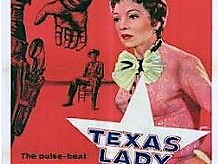 She takes on town founder Mica Ralston (Ray Collins) and ranch partner Whit Sturdy (Walter Sande), who seem to own everything and everybody. Just when everything is going well, she finds that the dull man Chris is in love with her.
The elegant Colbert proves her versatility in her first Western (at the age of 50) but the un-cosmic story and screenplay by Horace McCoy produce predictable, even faintly unbelievable entertainment.
However, Colbert, Sullivan and Collins prove a strong and sturdy star team, the supporting cast of veteran campaigners is solid enough, and, like many Fifties Westerns it has a catchy theme song, in this case sung by Les Paul and Mary Ford. Ray Rennahan's lovely widescreen and Technicolor cinematography adds a real whiff of plush grandeur.
Also in the cast are Gregory Walcott as Deputy Jess Foley, James Bell, Horace McMahon, Douglas Fowley, Don Haggerty, Harry Tyler, John Litel, Alexander Campbell, Florenz Ames, Kathleen Mulqueen, Robert Lynn and LeRoy Johnson.
It is the last film of director, writer, producer and actor Whelan (November 2, 1893 – August 12, 1957), best remembered for The Thief of Bagdad (1940).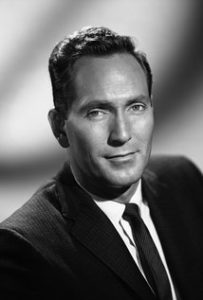 Gregory Walcott, who starred in movies in the Fifties and Sixties, including playing pilot Jeff Trent in Plan 9 from Outer Space, died on 20 aged 87.
'I had done so many great films and worked with so many great directors that I didn't want to be identified with such a piece of trash,' Walcott said.
His son puppeteer Todd Mattox said: 'He spent his life making people feel good.'
© Derek Winnert 2017 Classic Movie Review 5478
Check out more reviews on http://derekwinnert.com