Ten Little Indians *** (1965, Wilfrid Hyde White, Dennis Price, Stanley Holloway, Leo Genn, Shirley Eaton, Hugh O'Brian, Daliah Lavi, Fabian Forte) – Classic Movie Review 3261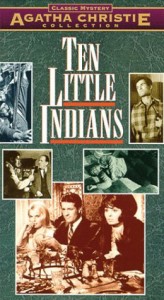 Director George Pollock's acceptable British 1965 thriller is the second of four movie versions of Agatha Christie's famous whodunit detective novel about 10 people invited by a mysterious stranger to a remote spot (this time a cut-off luxury snowy mountaintop mansion) only to start being bumped off one after another according to the poem of Ten Little Indians. It stars Wilfrid Hyde White, Dennis Price, Stanley Holloway, Leo Genn, Shirley Eaton, Hugh O'Brian, Daliah Lavi and Fabian Forte.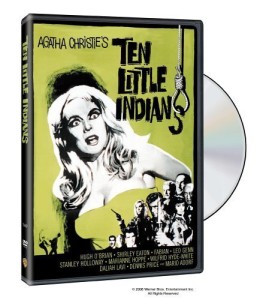 The interesting minor starry cast and Christie's secure and fascinating plot see the movie racing along grippingly to the finishing line. The story is plausibly relocated to the Austrian Alps this time, giving it a slight fresh spin, and the cast give strong performances.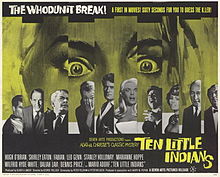 This remake of And Then There Were None, the 1945 classic version of Christie's mystery, adapts Dudley Nichols's original screenplay; made again in 1974 as And Then There Were None (with Charles Aznavour and Maria Rohm) and 1989 as Ten Little Indians (with Donald Pleasence, Frank Stallone, Sarah Maur Thorp, Brenda Vaccaro and Herbert Lom) by the same writer-producer, Harry Alan Towers.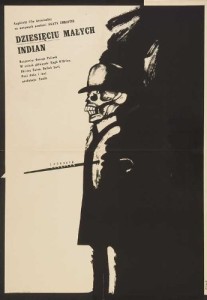 Christopher Lee's inimitable tones provide the voice of Mr U N Owen, the man who invited the guests to his house. It turns out none of them has met him and his secretary (Shirley Eaton), a married butler (Mario Adorf) and cook (Marianne Hoppe) were all hired through an agency. It might seem charming that framed copies of the children's nursery rhyme Ten Little Indians are hung on the walls of each guest's bedroom, but of course actually it is really sinister.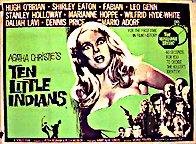 Director Pollock also made Margaret Rutherford's four much-loved Miss Marple films, loosely based on the novels of Agatha Christie: Murder, She Said, Murder at the Gallop, Murder Most Foul and Murder Ahoy!. Holloway and Hyde White starred together in My Fair Lady in 1964.
The house used is Kenure House in Rush, County Dublin, Ireland. It is the first adaptation of the novel to show the murders on screen. The ending is changed to be more upbeat one, using the one Christie wrote for her stage version of her downbeat novel.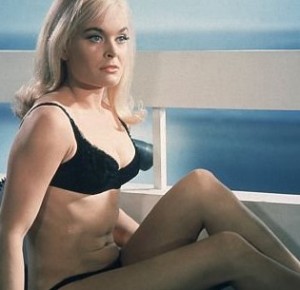 Shirley Eaton celebrates her 80th birthday on 12 January 2017. She was also in Doctor in the House (1954), The Love Match (1955), Panic in the Parlor (1956), Three Men in a Boat (1956), Your Past Is Showing (1957), Doctor at Large (1957), Carry On Sergeant (1958), Carry On Nurse (1959) and The Blood of Fu Manchu (1968). But she is most famous as golden girl Jill Masterson in Goldfinger (1964).
© Derek Winnert 2016 Classic Movie Review 3261
Check out more reviews on http://derekwinnert.com