Tea and Sympathy ** (1956, Deborah Kerr, John Kerr, Leif Erickson, Edward Andrews) – Classic Movie Review 4964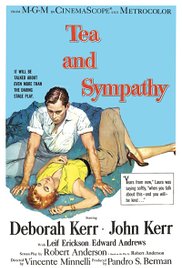 The love that dared not speak its name should have been the subject of this film but MGM dared not speak its name. This is a bit of a problem with director Vincente Minnelli's well-meaning 1956 film version of Robert Anderson's hit Broadway play. Another problem is that the play's star John Kerr, re-creating stage role fore the movie, was now aged 25, playing a 17-year-old 'schoolboy' in the film.
The story now is about the 17-year-old Tom Lee's lack of interest in sports, mountain climbing and girls gets him labelled 'sister-boy' at the college he is attending. The boy is to take the part of a woman in the school play and his dad Herb (Edward Andrews) has a fit when he sees the frock!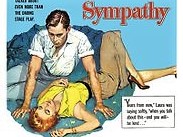 Deborah Kerr (unrelated to John) also re-creates her stage role as Laura Reynolds, the love-starved wife of headmaster Bill (Leif Erickson, from the Broadway production too). Laura befriends the sensitive, possibly gay adolescent Tom Lee (John Kerr) after she sees Tom's suffering from his school mates and her husband, and tries to help him find himself, showing the boy straight love.
It is hard to have a lot of sympathy with the film but the Kerrs do very well under the circumstances, though time has clearly exposed this dated, insipid movie's dishonesty. It lacks courage, grit and guts, all the things it most needs. Anderson's play had been banned in Britain. The film had a X certificate.
To be fair, the US censorship Hays Office forbade any hint of sexual deviancy in the movie so the screenwriters, for example, could not use the word 'sissy' in the screenplay and wrote out the implication that the headmaster character was closeted or a latent homosexual like in the original play. They were forced to use the bizarre 'sister-boy' instead.
So Tom is not gay. His classmates, father and others believe he is. But he is just not as macho or manly as they are or expect him to be.
Not surprisingly, the movie just does not work. It has its compensations, mostly in the performances of the Kerrs, but it just does not work. It could have been a pioneer. It could have been a contender. In another parallel universe, maybe.
© Derek Winnert 2017 Classic Movie Review 4964
Check out more reviews on http://derekwinnert.com