Tarzan and the Amazons *** (1945, Johnny Weissmuller, Brenda Joyce, Johnny Sheffield, Maria Ouspenskaya, Barton MacLane, Henry Stephenson) – Classic Movie Review 5905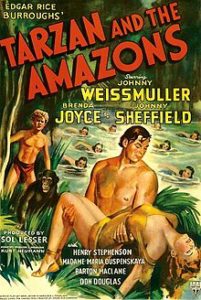 ' STRANGE ADVENTURE…in the secret wonder city of pagan forest maidens.' Johnny Weissmuller stars again in RKO's 1945 adventure as Tarzan, who this time looks after a tribe of women in a hidden Amazon valley threatened by the scientists/ archaeologists who are after their ancient city's treasure.
Weissmuller stars in his ninth movie as Tarzan, Brenda Joyce makes the first of her five appearances as Jane and Johnny Sheffield makes his sixth appearance as Boy.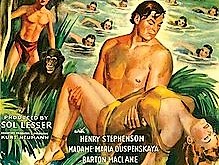 It is a modest but fun adventure, and on the plus side there are Weissmuller's Tarzan, Joyce's Jane, Sheffield's Boy, the indispensable character actors Maria Ouspenskaya, Henry Stephenson and Barton MacLane, a first rate production, a reasonable script by John Jacoby and Marjorie L Pfaelzer, and exciting direction from Kurt Neumann.
Archie J Stout shoots in black and white, it is produced by Sol Lesser and scored by Paul Sawtel.
The sturdy support cast are Henry Stephenson as well-meaning explorer Sir Guy Henderson, Maria Ouspenskaya as the Amazon Queen, Barton MacLane as the villainous member of Henderson's party Ballister, Don Douglas as Anders, Steven Geray as Brenner, J M Kerrigan as Splivens and Shirley O'Hara as Athena.
It is shot in Baldwin Park, Los Angeles County Arboretum and Botanic Garden and Lone Pine, California.
Maureen O'Sullivan quit after playing Jane in Weissmuller's first six Tarzan films, and there is no Jane in the next two films. O'Sullivan changed her mind about returning for Tarzan and the Amazons, and Joyce took over for five movies up to Tarzan's Magic Fountain (1949).
© Derek Winnert 2017 Classic Movie Review 5905
Check out more reviews on http://derekwinnert.com