Tall Man Riding *** (1955, Randolph Scott, Robert Barrat, Dorothy Malone, Peggie Castle) – Classic Movie Review 6684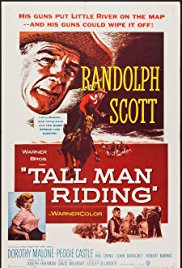 The tall man is craggy, square-jawed Randolph Scott (6′ 2″), who stars as straight-shooting Larry Madden, who is embroiled in a vendetta with cattle baron Tuck Ordway (Robert Barrat), whose daughter Corinna (Dorothy Malone) he has set his sights on, but Barrat has forbidden their love. Madden is still sore after the whipping Ordway gave him years ago.
Lesley Selander's 1955 Western Tall Man Riding is staunch cowboy fare, lifted out of the rut by a typically stalwart Scott performance and the serious-minded screenplay's examination of man's greed in the context of land grants to settlers in Montana.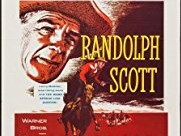 Tall Man Riding is capably directed by the extremely experienced Lesley Selander, whose innumerable credits include Buck Jones and Hopalong Cassidy series movies. Joseph Hoffman's screenplay is based on Norman A Fox's novel.
Also in the cast are Peggie Castle, John Dehner, Paul Richards, Lane Chandler, William [Bill] Ching, John Baragrey, Mickey Simpson, Joe Bassett, Charles Watts, Russ Conway, William Bailey, William Fawcett, Jack Henderson, John Logan, Bob Stevenson, Buddy Roosevelt, Vernon Rich and Phil Rich.
Tall Man Riding is directed by Lesley Selander, runs 83 minutes, is a Warner Bros release, is shot in WarnerColor by Wilfred M Kline, produced by David Weisbart, scored by Paul Sawtell and designed by Stanley Fleischer.
Dorothy Malone (1924–2018) was billed on the posters as 'that Battle Cry girl'.
© Derek Winnert 2018 Classic Movie Review 6684
Check out more reviews on http://derekwinnert.com