Swamp Thing *** (1982, Louis Jourdan, Adrienne Barbeau, Ray Wise) – Classic Movie Review 2871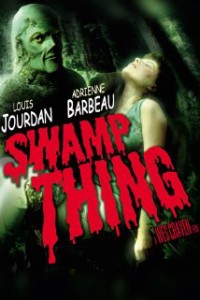 Writer-director Wes Craven's 1982 cult horror comic movie, based on Len Wein and Bernie Wrightson's D C Comic book characters, is reasonably engaging and amusing.
Ray Wise stars as a research scientist Dr Alec Holland, who invents a formula. But, thanks to greedy, grasping villain Dr Arcane (Louis Jourdan), he ends up in a violent incident with the special chemical all over him and is turned into a half man / half vegetable, a swamp plant monster obsessed with Alice Cable (Barbeau).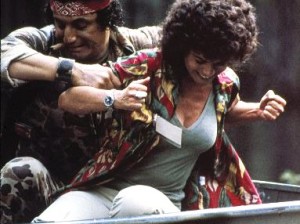 This is a goodish mix of the silly, the camp and the endearing, with an enlivening over-the-top performance by a lip-smacking Jourdan, while Adrienne Barbeau gives it her all as the agent trying to best Jourdan's Arcane character.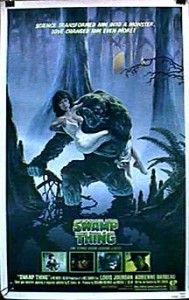 Also in the cast are Dick Durock as the creature Swamp Thing, David Hess, Nicholas Worth, Don Knight, Al Ruban, Ben Bates, Nanette Brown, Reggie Batts, Mimi Meyer and Karen Price.
Sequel: The Return of Swamp Thing (1989). Actor-stuntman Dick Durock portrays the Swamp Thing creature in both films and in the TV series Swamp Thing (1990).
Though the swamp scenes are set in the Louisiana Bayou they were filmed at Cypress Gardens in Moncks Corner, South Carolina.

RIP Wes Craven, horror movie genius, who died on 30 August 2015, aged 76.
© Derek Winnert 2015 Classic Movie Review 2871
Check out more reviews on http://derekwinnert.com