Superman *** (1948, Kirk Alyn, Noel Neill, Tommy Bond, Pierre Watkin) – Classic Movie Review 2244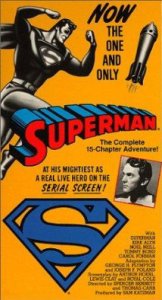 The Daily Planet's meek newsman Clark Kent gets into baggy tights, turns into the flying mighty Man of Steel, Superman, and battles with the scary Spider Lady in directors Spencer Gordon Bennet and Thomas Carr's engaging and entertaining 1948 15-part, 245-minute Columbia Studios movie serial, with particularly good villains.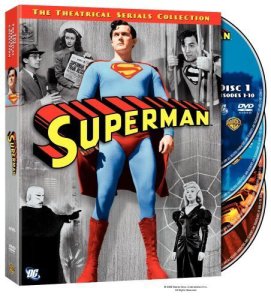 Kirk Alyn is excellent in both roles of Superman and Clark Kent, Noel Neill is good as Superman/Kent's reporter colleague and love interest Lois Lane, Bond is fine playing eager young Jimmy Olsen and Carol Forman gives a splendidly eerie turn as the Spider Lady, who considers herself Queen of the Underworld. Pierre Watkin plays newspaper editor Perry White.
Alyn, Neill, Bond and Watkin all returned for director Bennet's sequel: Atom Man Vs Superman in 1950. Poignantly, Alyn and Neill play young Lois's dad and mum in the 1978 Superman. And Neill plays Gertrude Vanderworth in Superman Returns in 2006. In 2015, she's 94 and playing Aunt Lois in the TV movie Surge of Power: Revenge of the Sequel.
George Reeves takes over from Kirk Alyn as Superman/Clark Kent and Phyllis Coates takes over from Noel Neill as Lois Lane in the first Superman cinema feature, Superman and the Mole Men (1951). Reeves and Coates went on to do the TV series Adventures of Superman (1952- 57), but Coates left the series in 1953 to be replaced by her predecessor Neill.

Noel Neill died on 3 July 2016 in Arizona after a long illness, aged 95.
© Derek Winnert 2015 Classic Movie Review 2244
Check out more reviews on http://derekwinnert.com/