Stagecoach ***** (1939, John Wayne, Claire Trevor, Andy Devine, John Carradine, Thomas Mitchell, Louise Platt, George Bancroft) – Classic Movie Review 386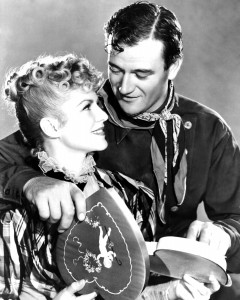 'My name's John Ford and I make Westerns,' said the director, and this double Oscar-winning 1939 masterwork is his most famous. In it, a motley crew of misfits tries to cross the New Mexico Territory in a rickety little stagecoach on the Overland Stage Line. All the while, Geronimo is on the warpath, and they are threatened by the war-like Apaches whose land it is, and are they are finally circled and attacked.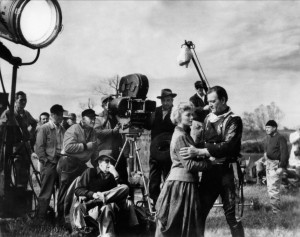 A young and athletic John Wayne makes a wonderful job of his role as the heroic Ringo Kid, propelling the 32-year-old actor to the top of the Hollywood tree after 12 years in the rut of B-movies. Top-billed Claire Trevor is a classic good-time girl as Dallas, tough as nails but with a heart of gold, while Andy Devine's whiny stage diver Buck and Thomas Mitchell's Best Supporting Actor Oscar-winning boozy medic Doc Boone are other captivating turns.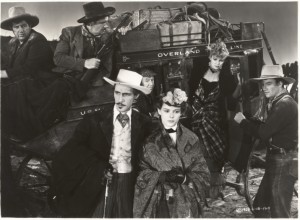 Also making notable appearances in the film are George Bancroft as Marshal Curley Wilcox and John Carradine as Hatfield.
Ford also memorably casts Berton Churchill as Ellsworth Henry Gatewood, Louise Platt as Mrs Lucy Mallory, Donald Meek as Samuel Peacock, Tim Holt as Lieutenant Blanchard, Tom Tyler as Luke Plummer, Chris-Pin Martin as Chris, Francis Ford as Sgt Billy Pickett and Jack Pennick as Jerry the Tonto bartender.
Also in the cast are Edward Brady, Nora Cecil, Bill Cody, Jack Curtis, Marga Ann Deighton, Franklyn Farnum, Brenda Fowler, Robert Homans, William Hopper, Si Jenks, Cornelius Keefe, Florence Lake, Duke R Lee, Theodore Lorch, Jim Mason, Louis Mason, Merrill McCormick, Walter McGrail, Paul McVey, Kent Odell, Artie Ortego, Joe Rickson, Buddy Roosevelt, Harry Tenbrook, Bryant Washburn, Whitehorse, Duke Lee, Al Lee and Jack Mohr.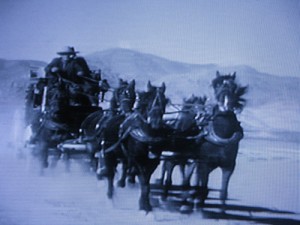 But Ford's taut and involved direction, the warm-hearted, character-driven, economical script based on Ernest Haycox's story Stage to Lordsburg, the amazing stunt-filled action co-ordinated by Yakima Canutt and the Oscar-winning score based on 1880s US folk tunes are also vital to Stagecoach's success.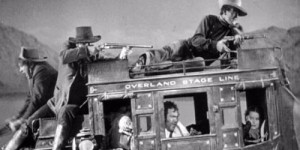 The other main character in the movie is Monument Valley, a startling backdrop first explored by Ford here. He was to revisit it regularly and lovingly in his movies.
Yakima Canutt performed the amazing dangerous stunt under the moving stagecoach and also appears as a cavalry scout. Ford won the New York Film Critics Award for Best Director.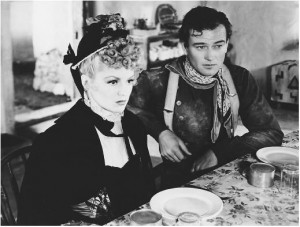 Apart from the two Oscar wins for Best Score (Richard Hageman, W Franke Harling, John Leipold, Leo Shuken) and Best Supporting Actor (Mitchell), there were five other Oscar nominations – for Best Picture, Best Director, Best Art Direction (Alexander Toluboff), Best Black and White Cinematography (Bert Glennon) and Best Film Editing (Otho Lovering, Dorothy Spencer).
Stagecoach has been remade twice with diminishing returns, first in 1966 with Ann-Margret and Bing Crosby, then in 1986 with Kris Kristofferson, Elizabeth Ashley, Johnny Cash and Willie Nelson. Hombre (1967), with Paul Newman, is a variant in the same theme.
© Derek Winnert 2013 Classic Movie Review 386
Check out more reviews on http://derekwinnert.com