Sorority Girl ** (1957, Susan Cabot, Dick Miller, Barboura O'Neill, June Kenney, Barbara Crane, Fay Baker) – Classic Movie Review 4442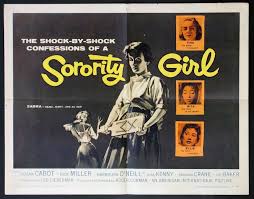 Director Roger Corman's 1957 teen exploitation movie is clunky and overwrought, worth a look mainly for its camp value now.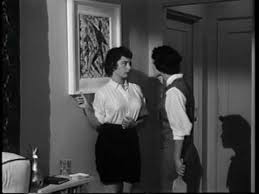 Susan Cabot stars as Sabra Tanner who suffers from extreme emotional trouble inherited from her weird, snooty, rich mom (Fay Baker). So Tanner gets her own back on the world by dominating her sorority sisters, especially Ellie Marshall (Barbara Crane) who leaks the news that Tina (June Kenney) is pregnant and Tanner then blackmails Tina by making her confess erroneously that Mort (Dick Miller) is the dad.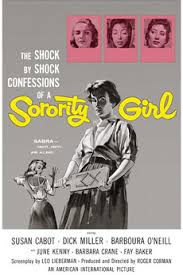 Corman recalls: 'Sorority Girl was a good idea, but the script didn't turn out too hot. Despite a few gaping plot holes, we managed to get a lot of really good performances out of our young actresses. Cabot was simply great.'
The script is by Ed Waters from a story by Leo Lieberman.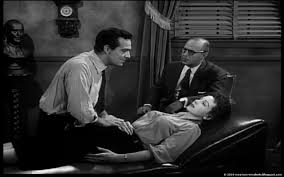 Also in the cast are Barboura O'Neill [Morris], Jeanne Wood, Beach Dickerson, Joan Laura, Jay Sayer, Shirley Cleveland, Donna Leary and Laurine Hastings.
It was remade as a 1994 TV movie, Confessions of a Sorority Girl.
© Derek Winnert 2016 Classic Movie Review 4442
Check out more reviews on http://derekwinnert.com