Single White Female *** (1992, Bridget Fonda, Jennifer Jason Leigh, Steven Weber) – Classic Movie Review 4789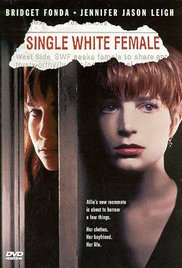 Bridget Fonda stars as Allison Jones, who breaks up with her divorced boyfriend Sam Rawson (Steven Weber) after she finds out that he has cheated on her with his ex-wife. She advertises for a single white female to share her New York apartment and takes on the mousy and dowdy-looking Hedra Carlson (Jennifer Jason Leigh), who turns out not to be as sweet as she seems.
The movie's classy, believable first half turns into a tacky Grand Guignol second act as director Barbet Schroeder tries everything he knows to make his 1992 thriller meaningful and intelligent entertainment.
Both women give rousing, full-blooded performances, Fonda all civilised self-control, while Leigh is full of pent-up rage and madness. Yet somehow you know that once Fonda says 'I hope you will never get mad at me' to Leigh, the film is going to lurch downhill into stiletto and meat hook territory. However, it is still an enormous disappointment when it does.
Don Roos's serviceable screenplay is based on John Lutz's novel Single White Female Seeks Same.
Also in the cast are Peter Friedman, Stephen Tobolowsky, Frances Bay, Rene Estevez and Kenneth Tobey.
In December 2016 it was announced that NBC is developing a series based on the movie, with a script by executive producer Eric Garcia.
© Derek Winnert 2016 Classic Movie Review 4789
Check out more reviews on http://derekwinnert.com