Shoot the Pianist [Tirez sur le pianist] **** (1960, Charles Aznavour, Marie Dubois, Nicole Berger, Michèle Mercier, Albert Rémy, Serge Davri, Claude Mansard, Daniel Boulanger) – Classic Movie Review 93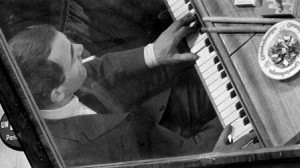 For his second feature in 1960, François Truffaut turns David Goodis's American potboiler novel Down There (already filmed in the US as The Burglar in 1957) into an exuberant, quirky, stylish personal take on the Hollywood B-movie thriller in the provocative fashion of the Sixties French New Wave (Nouvelle Vague).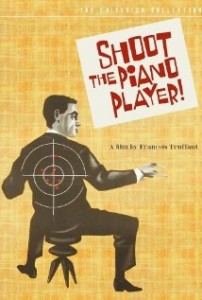 Gallic chanteur Charles Aznavour is ideal as Charlie Kohler, the melancholic piano player working in a sleazy Parisian bistrot bar. That's where his gangster brothers Chico and Richard (played by Albert Remy and Jean-Jacques Aslanian) hang out, and also where Léna (Marie Dubois) is the tough waitress. Léna is in love with Kohler and they become an item. But trouble starts when they are threatened by a couple of comically dangerous gangsters, Momo and Ernest (Claude Mansard and Daniel Boulanger).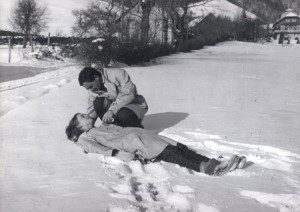 After the big success of Truffaut's realist Les Quatre Cents Coups (The 400 Blows) in 1959, this is a very different kind of film and was not a hit or much admired in its day. And yet it is one of Truffaut's best movies, taut, amusing and unsettling. Georges Delerue's jazzy score is superb, arguably even more impressive than Raoul Coutard's outstanding cinematography in gleaming black and white.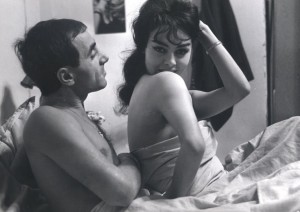 Tirez Sur Le Pianiste (aka Shoot the Pianist or Shoot the Piano Player!) might seem minor Truffaut now, but it is still major anyone else.
The last word on it should go to Truffaut, who commented: 'In Goodis I like a lot of things: characters, action, also the way it's written. I remember I wanted to do this book because I admired it.' Fair enough.
Goodis's novel was filmed again in 1971 as Le Casse, aka The Burglars, in 1971 with Jean-Paul Belmondo, Omar Sharif and Dyan Cannon.
© Derek Winnert 2013 Classic Movie Review 93
Check out more reviews on http://derekwinnert.com/
http://derekwinnert.com/jules-et-jim-classic-film-review-290/
http://derekwinnert.com/les-quatre-cents-coups-classic-film-review-61/