Ship of Fools **** (1965, Vivien Leigh, Simone Signoret, Oskar Werner, Lee Marvin, José Ferrer, George Segal) – Classic Movie Review 5124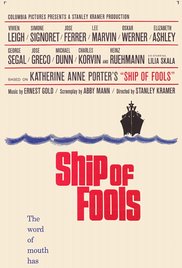 Producer-director Stanley Kramer's grand, double Oscar-winning 1965 movie soap opera is set aboard a second-rate German ocean liner sailing the Atlantic from Veracruz, Mexico, to Bremerhaven, Germany, in 1933. The liner may be run by a second-class company, but the film is first class.
Unfortunately, as the title Ship of Fools threatens, it has ludicrous, over-blown pretensions to be About Something, based, as it is on Katherine Anne Porter's novel, adapted for the screen by Abby Mann. It is all a bit obvious and embarrassing that it is supposed to represent a microcosm of Thirties society. However, when the film sticks to its rightful soapy station in life, and focuses in the actors and their characters, it is wonderful.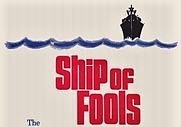 In her last movie, Vivien Leigh bows out in great style as Mary Treadwell, a bitter, boozy divorcée flirting with old baseballer Bill Tenny (Lee Marvin). Great though they both are, even better still are Simone Signoret and Oskar Werner as another ill-matched pair, the drug-addicted Spanish countess La Condesa and Dr Wilhelm 'Willi' Schumann, the ship's medical officer she is having a secret fling with.
The other most notable performance comes from the 3′ 11″ Michael Dunn, who enjoys his finest hour in the movies as the film's narrator ('This is a ship of fools, if you look closely enough you may even find yourself aboard'). Also in the cast is José Ferrer as a Nazi named Siegfried Rieber, Heinz Rühmann as a Jewish man called Julius Lowenthal, George Segal, José Greco, Elizabeth Ashley, Charles Korvin as the ship's Captain Thiele, Lilia Skala, BarBara Luna, Alf Kjellin and Christiane Schmidtmer.
There was an Oscar for Ernest Laszlo's Best Black-and-White Cinematography and another for Best Black-and-White Art Direction-Set Decoration (Robert Clatworthy, Joseph Kish); Signoret, Werner and Dunn were all Oscar nominated. Leigh died of TB in 1967, aged 54.
© Derek Winnert 2017 Classic Movie Review 5124
Check out more reviews on http://derekwinnert.com