She ***½ (1965, Ursula Andress, Peter Cushing, Christopher Lee, John Richardson, Bernard Cribbins, André Morell) – Classic Movie Review 4454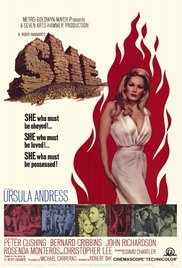 Ursula Andress stars as She, the beautiful woman cursed with eternal life until she falls in love, in this Hammer Films studio's re-filming of H Rider Haggard's fantasy adventure epic, first shot as a talkie in 1935 as She.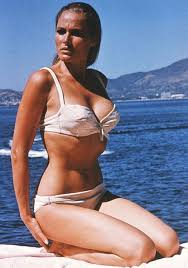 Andress plays 2000-year-old Queen Ayesha ('She Who Must Be Obeyed') who ensnares the handsome hero (John Richardson) because she thinks that he is the reincarnation of the lover she killed years earlier in a jealous rage. The African setting accounts for Andress's constant state of undress, and this film made her a star after her initial impact in Dr No.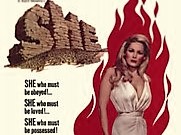 Andress holds centre stage statuesquely, putting even Peter Cushing and Christopher Lee in the shade. Cushing plays Major Holly, who is pottering around Palestine with his valet Job (Bernard Cribbins,) and his handsome young friend Leo Vincey (Richardson) when they are approached by a mysterious oriental who thinks Leo has uncanny likeness to the portrait of Killikrates on an ancient coin. Killikrates, a companion of Alexander the Great, is the man Ayesha has awaited for centuries. Ayesha offers Leo her eternal love, immortality and a share of her throne  Lee plays Billali.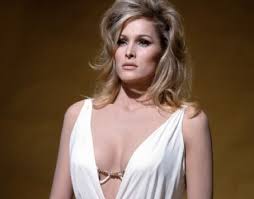 Although the film is undemanding, it is thoroughly entertaining and was a big hit, setting Hammer off on a sequel – The Vengeance of She (1968) – and a profitable new cycle of movies.
Also in the cast are André Morell, Rosenda Monteros and John Maxim.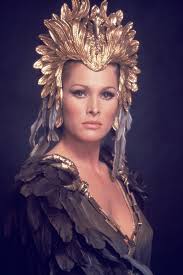 It is written by David T Chantler, shot by Harry Waxman, produced by Michael Carreras and Aida Young, scored by James Bernard and designed by Robert Jones.
It was filmed as a talkie in 1935 with Helen Gahagan after seven silent film versions of the story, though only director Leander de Cordova's 1926 version starring Betty Blythe remains.
© Derek Winnert 2016 Classic Movie Review 4454
Check out more reviews on http://derekwinnert.com