Seven [Se7en] ***** (1995, Morgan Freeman, Brad Pitt, Gwyneth Paltrow, Kevin Spacey) – Classic Movie Review 19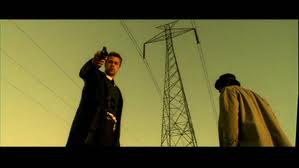 Morgan Freeman and Brad Pitt are perfectly cast as contrasting cops in this startlingly bleak, edgy and shocking 1995 thriller that will keep you on the edge of your seat throughout and haunt you for days, maybe years afterwards.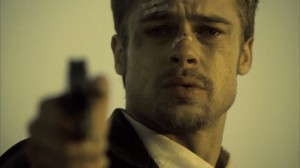 Freeman brings immense authority and dignity to his role as the wise but tragic big-city veteran detective lieutenant William Somerset, pursuing the case of the vilest kind of serial killer, labelling his crimes with nasty reminders of each of the seven deadly sins, starting with gluttony.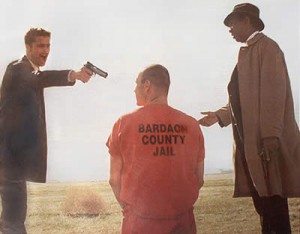 Sneering at Freeman's bid to get inside the killer's head by researching the deadly sins, Pitt is nearly as good as his rookie colleague Detective David Mills. Meanwhile Gwyneth Paltrow also helps out as Mills's young wife Tracy and R Lee Ermey stands out in support as the police captain.
But it's Kevin Spacey you remember, igniting the screen as John Doe, one of the all-time great movie monsters. Who is he? What's he up to? You are about to find out… Kevin Spacey is on fire. He should have won a Best Supporting Actor Oscar for his chilling John Doe. But he wasn't even nominated, and nor was anybody else, apart from the film editor, Richard Francis-Bruce.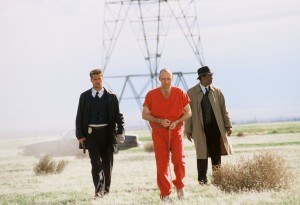 Director David Fincher handles it all with style and flair to spare, Darius Khondji's polished rain-swept cityscape cinematography is just brilliant, Arthur Max's set designs are imaginative and Howard Shore's score an ideal accompaniment to the images. Andrew Kevin Walker's original screenplay is a gleaming gem, standing out in a crowded market of often-stale serial killer thrillers.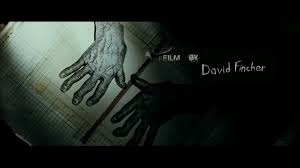 Some audiences may find that the tension in this brilliantly atmospheric, nailbiting horror story is just too much to bear. I need hardly add a warning to beware the grisly violence but this is a desperately chilling and profoundly disturbing movie, a great one too though. You may need to have a shower immediately afterwards to wash it off.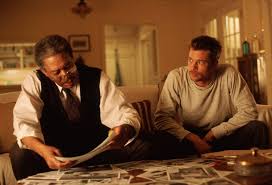 David Bowie's song The Heart's Filthy Lesson gets an effectively used airing. Writer Andrew Kevin Walker appears as Dead Man!
Fincher also directed Pitt in Fight Club and The Curious Case of Benjamin Button.
Spacey however did win the 1996 Best Supporting Actor Oscar, in his other triumphant turn in the same year as Se7en as Roger 'Verbal' Kint, the pitiful gimp with the limp, in The Usual Suspects. And he went on to win the Best Actor Oscar in 2000 for American Beauty.
http://derekwinnert.com/the-usual-suspects-classic-film-review-81/
http://derekwinnert.com/fight-club-classic-film-review-333/
© Derek Winnert 2013 Classic Movie Review 19
Check out more reviews on http://derekwinnert.com/