Sawdust and Tinsel [Gycklarnas Afton] **** (1953, Åke Grönberg, Harriet Andersson, Hasse Ekman, Anders Ek, Annika Tretow) – Classic Movie Review 4017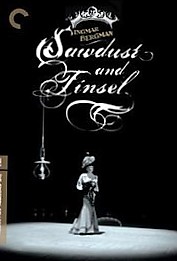 Writer-director Ingmar Bergman's 1953 early Swedish masterwork stars Åke Grönberg as Albert Johansson, the ring-master of a travelling circus, attempting to make peace with his estranged wife Agda, played by Annika Tretow.

But Grönberg is tormented by his current young mistress Anne (Harriet Andersson) in Bergman's typically jaundiced and intense look at faltering loves and relationships.

Behind Bergman's stories of the petty humiliations of the circus performers lies his serious-minded theme of the artist's role in society. Brilliant cinematography by Sven Nykvist, making his notable bow Bergman in the first of many for him, and a fervent Fifties modernist score by Karl-Birger Blomdahl help to complete a powerful, thought-provoking package.

Also in the cast are Hasse Ekman, Anders Ek, Gudrun Brost, Gunnar Björnstrand, Erik Strandmark, Curt Löwgren, Kiki and Ake Fridell.

It runs 95 minutes but a cut US version was released as The Naked Night  in 1956 at 82 minutes.
Bergman wrote: 'I wrote the script in a small hotel at Mosebacke Square, Stockholm. There was a winding staircase from the hotel down to the theatre. In the evenings music was heard from the stage. At night the actors were wining and dining in the hotel. In this environment Sawdust and Tinsel was created in less than three weeks.'
© Derek Winnert 2016 Classic Movie Review 4017
Check out more reviews on http://derekwinnert.com