Saraband for Dead Lovers **** (1948, Stewart Granger, Joan Greenwood, Françoise Rosay, Flora Robson, Peter Bull, Megs Jenkins) – Classic Movie Review 5058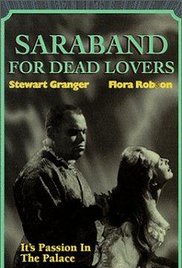 Directors Basil Dearden and Michael Relph's attractive 1948 British oddity stars Joan Greenwood as sad young Sophie Dorothea, the arranged marriage wife of the effete Prince George Louis, the future English King George I (Peter Bull). This beautiful story of doomed romance is imaginatively conjured up from the pages of history.
However, history it may be, but the screenplay by John Dighton and Alexander Mackendrick is based on a novel by Helen Simpson. It is notable as the first Ealing Studios film to be shot in colour.
Sophie Dorothea is attracted to the handsome and dashing Swedish soldier of fortune Count Philip Königsmark (Stewart Granger), but he loves ageing Countess Platen (Robson). However, when Königsmark inevitably falls for Sophie Dorothea, the Countess plots a terrible revenge.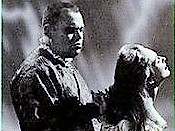 The superlative cast is on fine form – especially the admirable Greenwood and Robson – in an unusual Ealing Studios period romantic drama that packs real punch and has an attractive weird grandeur. The Oscar-nominated production designs by producer Relph and art direction by Jim Morahan and William Kellner are wonderful, and Douglas Slocombe's Technicolor cinematography is a knockout.
It is hardly possible to imagine this kind of romantic tragedy costume drama being done better than this.
A saraband is a slow score composed for a dance.
Also in the cast are Megs Jenkins, Anthony Quayle, Frederick Valk, Michael Gough, Allan Jeayes, Jill Balcon, Cecil Trouncer, David Horne, Mercia Swinburne, Miles Malleson, Guy Rolfe, Aubrey Mallalieu, Noel Howlett, Anthony Steel, John Gregson, Sandra Dorne and Barbara Murray.
Christopher Lee landed a role while shooting tests as Granger's stand-in but his scene was cut.
It was Oscar nominated for Best Art Direction-Set Decoration.
© Derek Winnert 2017 Classic Movie Review 5058
Check out more reviews on http://derekwinnert.com