Saps at Sea *** (1940, Stan Laurel, Oliver Hardy, James Finlayson, Dick Cramer, Ben Turpin) – Classic Movie Review 6552
Director Gordon Douglas's 1940 57-minute comedy film features James Finlayson as a doctor, Dr J H Finlayson by name, who prescribes a peaceful sea cruise for Stan Laurel and Oliver Hardy. It is intended to help Ollie recuperate after he has a nervous breakdown at a horn factory (shades of Charles Chaplin's Modern Times). He is suffering from what is evidently a fairly rare case of 'hornophobia'.
However, once the duo are apparently safely aboard, it turns out that the boat is unseaworthy and then that a escaped killer called Nick Grainger (Dick [Richard] Cramer) also climbs aboard.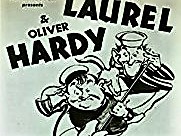 Laurel and Hardy's last film for producer Hal Roach, co-written by silent comedian Harry Langdon, along with Charles [Charley] Rogers, Gilbert [Gil] Pratt and Felix Adler, is full of vim and wit in its first half, though thereafter some gags misfire and are over-extended.
Still, the endlessly watchable and treasurable Stan and Ollie, plus their hilarious stooges Finlayson, Cramer and Ben Turpin (Cross-Eyed Plumber), help to make the movie a real vintage pleasure. Stan and Ollie give their bewildered and exasperated turns a grand workout.
Also in the cast are Patsy Moran, Eddie Conrad, Harry Hayden, Charlie Hall, Gene Morgan, Charles A Bachman, Bud Geary, Jack Greene, Eddie Borden, Robert McKenzie, Ernie Alexander, Mary Gordon, Jack Hill, Walter Lawrence, Carl Faulkner, Harry Evans, Ed Brady, Patsy O'Bryne, Francesca Santoro, Jackie Horner, Harry Bernard, Sam Lufkin and Constantine Romanoff.
It is shot in black and white by cinematographer Art Lloyd, scored by Marvin Hatley and designed by Charles D Hall.
It is Lloyd's last Hollywood film. Laurel wanted him to join his independent production company, which failed, and then in 1941 at 20th Century-Fox, but the studio refused to allow him to choose his colleagues.
© Derek Winnert 2018 Classic Movie Review 6552
Check out more reviews on http://derekwinnert.com