Rocketship X-M **** (1950, Lloyd Bridges, Osa Massen, John Emery, Noah Beery Jr, Hugh O'Brian, Morris Ankrum) – Classic Movie Review 2562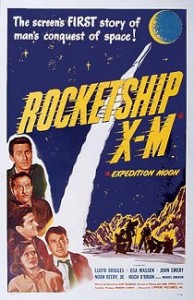 Producer-director Kurt Neumann's trail-blazing 1950 sci-fi movie is the first American outer space adventure of the post-World War Two era. It was quickly shot in just 18 days and rushed into cinemas 25 days before the high-profile Destination Moon, taking full advantage of its publicity.
Rocketship tells the story of four men and a woman (Lloyd Bridges, Osa Massen, John Emery, Noah Beery Jr and Hugh O'Brian) who blast into outer space from the White Sands Proving Ground aboard the RX-M (Rocketship Expedition-Moon) on a Moon expedition that hits trouble half way to their destination and goes way off course.
Though they are afflicted by some fuel miscalculations, it is not bad navigation that is to blame for the first Moon-bound spaceship landing on Mars. It is craft malfunction through a meteor shower that sends the crew off course.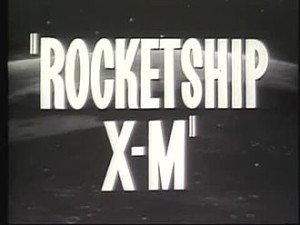 But Dr Karl Eckstrom (John Emery)'s little crew touches down on the Red Planet to discover deadly, mutated radiation victims. Then, they are attacked by unsighted Martians, the remnants of a civilisation destroyed long ago by atomic war and now reverted to barbarism.
Lloyd Bridges gives a stalwart turn as the space pilot, Colonel Floyd Graham, and all the other performances are at least adequate. Morris Ankrum plays Dr Fleming, the crew's radio contact back at their White Sands base. Also in the cast are Patrick Aherne, Sherry Moreland, John Dutra, Kathy Marlowe and Sam Harris.
Indeed, everything's pretty much okay here in this pioneering rocketship picture, except for the trashy-looking production through limited shooting days and the way too low-budget ($94,000) filming, and the risible visual effects, though a 1976 rejig of the movie hugely improves the trick work.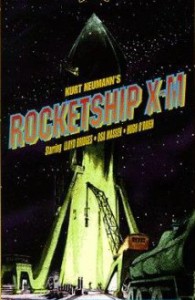 The rights to the movie were acquired in the Seventies by Kansas City film exhibitor Wade Williams, who re-shot some of the special effects scenes to improve the film's look and overall continuity. He funded the production of new footage to replace the stock V-2 rocket shots and missing effects scenes never shot in 1950 due to lack of time and money.
The comic-book look of Karl Struss's black-and-white cinematography works a treat and the Mars section, with all its scenes tinted a pinkish-red colour, works very effectively. The surface of Mars is simulated using remote Southern California locations.
Still very entertaining for all keen and loyal sci-fi movie buffs, RX-M is beloved as the grand-daddy of the whole space-flight genre, along with the simultaneously filmed Destination Moon and the following year's similar Flight to Mars.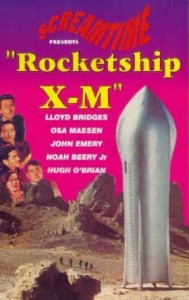 The notable soundtrack is by American composer Ferde Grofé, who uses a Theremin in the score, the first use of this electronic instrument in a science fiction film. It later became strongly identified with the genre.
Prints of the original theatrical release version of RX-M are still stored in Williams' Kansas City film vaults and have not been converted to a home video format.
Neumann also directed The Fly (1958).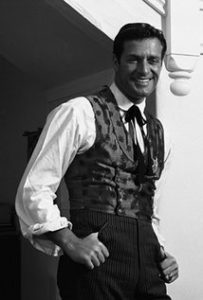 RIP Hugh O'Brian, 5 September 2016.
© Derek Winnert 2015 Classic Movie Review 2562
Check out more reviews on http://derekwinnert.com